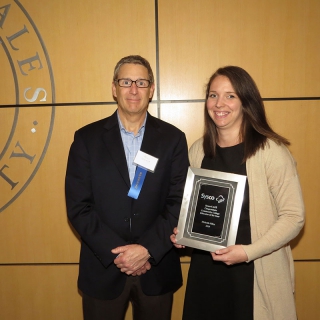 Sysco Community College Educator of the Year Award
03 August 2019
Sysco Community College Educator of the Year Award:
Michelle Riley, MHS, RD, Johnson County Community College, Overland Park, Kansas
Urging students to succeed and supporting their educational journey without compromising standards describes the teaching style of Michelle Riley, assistant professor in the culinary and hospitality program at Johnson County Community College (JCCC). She is also the winner of the Sysco Educator of Year, Community College award.
Wearing many education culinary toques, Riley teaches courses in medical nutrition therapy, nutrition applications, dietary management practicum, nutrition and meal planning, and foodservice management.
Professor Riley combines her background in nutrition and science with a passion for food in unique and exciting ways that make her courses some of the most sought after and educational. For example, she recently taught a special topics course in culinary nutrition where hospitality students, many of whom have never entered a science classroom, were exposed to the fundamentals of the scientific methodology. Without realizing it, her students engaged in the hallmarks of science - research, observation, experimentation and documentation.
Service learning is another aspect regularly emphasized in Riley's courses. Her background in public health on issues surrounding low income food security have given her a healthy respect for the power of a motivated classroom. She frequently challenges her students to give back to their community.
Dr. Larry Reynolds, dean, Communications and English/Journalism, said, "As I began to work closely with Professor Riley, I began to understand that she brings a passion for education, an energy to her classes, and a commitment to the culinary and hospitality industry that all of us marvel at and few can equal. Her classes have extremely low attrition rates and her student evaluations are exceptional."
Beyond course instruction, Riley developed a new Nutritional Health associate program for JCCC. This work involved constructing a curriculum map, working with university partners on transfer agreements, developing competency assessments, creating three new courses and setting up an advisory board. Additionally, she completed the program's application for the Accreditation Council for the Council for Education in Nutrition and Dietetics.
Riley also developed a unique program in collaboration with the University of Kansas Health system and the University of Kansas Medical Center for monthly community presentations on cooking and eating right. Each program focuses on a nutrition or cooking topic and is open to the public and presented for viewing on the web at https://www.youtube.com/playlist?list=PLHhe-2tIHRqFip2mXbfGgj5jgc0qu3gQf.
Students praise Riley's knowledge, care and concern. JCCC student Courtney Sottile said, "Throughout my schooling, I have run into wonderful teachers, but I had yet to come across one who is as caring and dedicated to her students' success – (That is) until I found myself sitting in Professor Riley's classroom. Many students have been positively impacted from having a seat in her classroom. I speak for many when I say that Professor Riley is a one-in-a-million teacher."