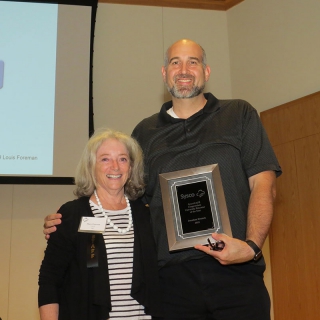 Sysco University Educator of the Year Award
03 August 2019
Sysco University Educator of the Year Award:
Dr. Jonathan Deutsch, Drexel University, Philadelphia, Pennsylvania
Holding the position of culinary chef educator in a four-year, research-driven university may seem challenging to some. But, to Dr. Jonathan Deutsch, Drexel University professor, it's just another day in the classroom.
The Sysco Educator of the Year University award winner has been teaching higher education culinary classes for 20 years. During his tenure, Dr. Deutsch has achieved a myriad of contributions to scholarship, students' personal and educational wellbeing, as well as created a wellspring of knowledge about food system and sustainability.
A culinarian who straddles the worlds of industry and education, Dr. Deutsch is a sought-after contributor to workshops, food industry shows, academic publications and more. Dr. Jeffery Miller, CCE, CEC, and Colorado State University associate professor, said, "His understanding of the culinary arts, world food systems, and the human condition provide him with a remarkable platform for creating interesting lessons for students and culinary professionals. With some educators, you get breadth and with others, you get depth. With Jon, you get both."
The James Beard Foundation Impact Fellow is author or editor of eight books and teaches classes across a wide range of programs including culinary arts, food science, hospitality management and nutrition. He also maintains an active research program and is the Drexel Food Lab founder, a good food product development and culinary innovation lab.
According to Dr. Deutsch, the Food Lab was founded to engage university students studying culinary arts, hospitality management, food science, nutrition and related fields with industry leaders and faculty to solve real-world problems through culinary innovation and food product development. Current sustainability projects include food waste reduction, health-promotion, and inclusive dining.
His undergraduate and graduate students from across the school's disciplines find him to be a culinary and food sustainability expert and not just an educator, but "an outstanding mentor who does anything in his capacity to elevate students," said Lindsey Kerr bachelor of science candidate in product design.
Other students are impressed by Dr. Deutsch's understanding of real-world issues and his ability to bring together students, outside professionals and culinary educators to design real, practical solutions.
Student Erik Ildefonzo said, "One aspect that is unique about Dr. Deutsch is his ability to encourage students to think progressively. To think about the major issues that we are facing in the real world in order to find possible solutions for them. His ability to encourage this type of thinking helped me become more well-rounded, more aware of what is currently going on in the world, specifically in the world of food."
Isabel Guerriero, hospitality management student, added "Working with clients and creating new products practically comes to Jon's mind effortlessly. It's as if there is no food project that can stump him. Along with that, his knowledge about combatting food waste and finding new ways to utilize it is incredible."
Dr. Deutsch's academic pursuits over the past decade have included three focus areas: making—and keeping—culinary education relevant; engaging culinary students in hands-on solutions to address and improve real world food system problems; and deepening society's understanding of the human relationship with food.
Undergraduate student Elizabeth Czerpak summed up Dr. Deutsch's teaching style this way:
"From the moment you step foot in his classroom, it feels different. His ability to create a positive, eye-opening, communicative, and inspiring atmosphere is unmatched by any of my other experiences. Leaving a classroom with Dr. Deutsch you feel seen, supported, and have entire new perspectives of the food industry, the potential it has, and how we all fit in it together. Upon my graduation in June, I will not miss the tuition bills or early morning exams, but I will truly miss the opportunity to learn alongside Dr. Deutsch. Thankfully, he is not the kind of professor that you graduate from after you get your diploma, either."