Lesson Plan: Grapes Make the Plate
31 March 2012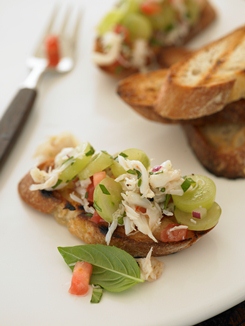 An e-learning module focusing on the versatility, nutrition and palate-pleasing power of California table grapes.
Courtesy of CIAprochef.com
With its mild, Mediterranean-type climate, California is paradise for grapes. Everyone knows that the Golden State grows world-class wine grapes, but table grapes excel there, too. In fact, California produces almost all of the United States' commercially grown table grapes.
Chefs know they can count on grapes to add refreshment to a cheese plate, color to a fruit plate or a wholesome crunch to a salad. But if you think of grapes only as a garnish, you're missing a lot of the fruit's culinary potential. In the hands of professional culinarians with an innovative bent, fresh grapes can go in directions you may never have imagined. Carbonate a grape? Why not?
In this deep-diving exploration of a fruit that many cooks take for granted, Chef Scott Samuel of The Culinary Institute of America at Greystone expands students' notions of what a grape can do.
Understanding the capabilities of California table grapes will inspire aspiring cooks to be creative and inventive for today's menus. By visiting Grapes Make the Plate online, students can discover the flavor differences and contributions of various grape varieties and the nutritional benefits of grapes. And they can tap into a wealth of videos and recipes as tools with which to experiment with creating contemporary, on-trend dishes for today's discerning palates.
---
Photo: Grilled Bruschetta with Crab and Grape Salsa. Courtesy of California Table Grape Commission.