Lesson Plan: From Po' Boys to Portobello Sliders
30 November 2011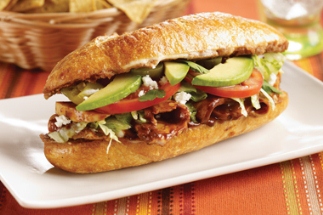 SandwichPro.com offers new on-trend sandwich-making demos.
Courtesy of Unilever Food Solutions
SandwichPro.com recently debuted its "Chef Demo" video gallery full of great sandwich ideas from the Unilever Food Solutions culinary team. Click on the "Recipes" tab, then click "Chef Demos" on the left-hand side. From ethnic-inspired trends to classic combinations that thrill, Chefs Steve Jilleba, CMC, and Matt Burton guide viewers through the recipes with step-by-step instructions. Several of the videos relate to trend articles elsewhere on the site.
Some of the recipe demos currently featured on SandwichPro.com are:
Hot Turkey Mole Torta: a budget-friendly way to spice up your menu
BBQGC: pulled pork makes grilled cheese even better!
Korean BBQ Tacos: made popular by food trucks, they turn extra scraps into extra profit
Grilled Chicken and Brie Sandwich: sweet and savory, with trendy ingredients
Cubano Sandwich: a Latin classic, hot off the press
For more information on the latest sandwich and burger trends, news and recipes, visit SandwichPro.com.
---
Photo: SandwichPro.com's Turkey Mole Torta.