CAFE Update May 11, 2020
11 May 2020
And the Winner is
The National Mango Board celebrated Women's History Month by Calling All Women Leaders and Innovators in Foodservice
They asked: "What's your Womango story?"
The National Mango Board celebrates the achievements of women in foodservice that push the boundaries of what's possible, and invited educators to share their first Womango encounter, most amazing mango experience, moment of sheer mango happiness, favorite mango recipe, or burning question about mangos.
And the winner is:
IF I WERE A MANGO
Chef Annmarie Chelius MS, CHE, CCE, CWPC
Chef Educator, Atlantic Cape Community College
If I were a mango
Which I would like to be
I would be quite content
Living on a tree!
Bright is my cheery flesh
Refreshingly sweet
My lovely color
Sure can't be beat
And better yet
I can take some heat!
If I am bruised
It is ok
Do not worry
Use me as a puree!
Toss me in salad
Add me to rice
Grill me or sauté
I'm perfect every way!
If I were a mango
Which I would like to be
Making people healthy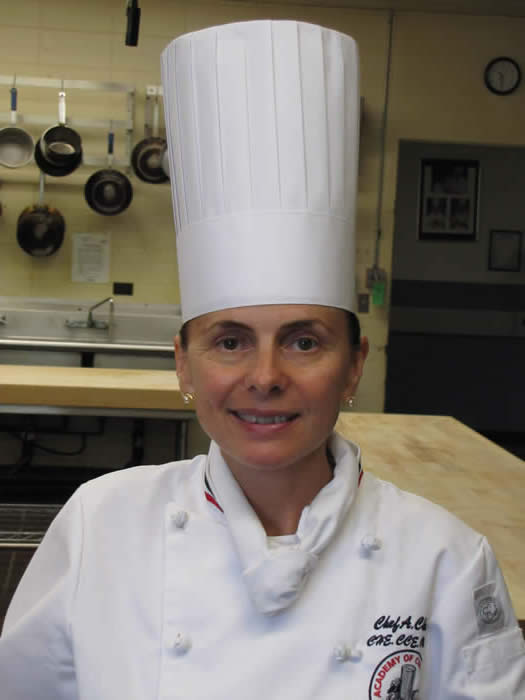 Sure sounds nice to me!
Congrats Chef Chelius! You won a complimentary registration to the 16th annual CAFÉ Leadership Conference in June 2021!
And thank you to the Mango Board for recognizing the role that women in foodservice have!
---
Food for Thought
Thanks to Michael Harants and the ACF chapter in Harrisburg, Pennsylvania, for sharing some outstanding resources on their website! Scroll down the page to the Food for Thought Editions Chef Harants has compiled which include: A Good Read; A Good Listen; A Good Watch; A Good TED; A Good Butcher; and more!
For students, instructors and professional alike – there are suggestions to entertain and challenge the mind! Think both in and outside the box! Volumes 1-3 now available. Go to
http://acfharrisburg.org/?page_id=2966
---
Have You Read the May Issue of "The Gold Medal Classroom"?
Click here for features, columns, and news items.
---
2021 Dates to Remember
March 12-14, 2021
8th Annual Deans and Directors Retreat
April 1, 2021
Awards Deadline
June 23-25, 2021
16th Annual CAFÉ Leadership Conference