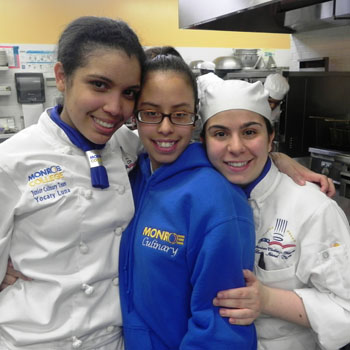 On May 11, more than 40 students and professional chefs converged on the New Rochelle Campus to compete in the Greater New York Culinary Challenge (GNYCC) at the Culinary Arts Center. Besides medals awarded at this competition, there was another award at stake: The Dean's Cup. This award, given by Dean Frank C. Costantino to the outstanding student culinarian, was on the line for 10 of Monroe's most accomplished young culinary competitors.
The competition was an "iron chef" format that had the students preparing an entrée from a basket of ingredients. First-year student Rossella Cangialosi, Barry Tech BOCES, won the inaugural Dean's Cup with a silver medal for her sautéed chicken breast with mushroom sauce. Runner-up to the cup, also a silver-medal winner, Sade Aguila, 2011 America's Best HS Chef from Food and Finance, recorded a milestone medal, earning the 400th competition medal won by Monroe Culinary since April 2009.
Silver medals were also won by Enmely Soriano (Passaic County Tech), Kencito Vernon (Food and Finance), Yocary Luna, 2012 America's Best High School Chef from Food and Finance, and Kimani Hines, Gateway School. Bronze medals in the Dean's cup were won by Katherine Taveras, C-CAP Philly and captain of the 2013 Junior Culinary Team, along with her teammates, Carmen Albino, Port Richmond C-CAP, and Laura Sanchez, Passaic County Tech. Lealy Irizarry, Truman High School, also earned a bronze medal.
Other Monroe Culinary students were vying for medals, as well. Alberto Obando, LIC High School, earned his first individual student medal, a silver, for his trio of Cornish game hen. It was student gold medals for Jovita Palafox, Port Richmond C-CAP student, whose chocolate/banana cake was a favorite of the judges, and Nashali Rivera, Food and Finance C-CAP student, who impressed the judges with her Cornish hen dish. Rivera earned the highest score posted on the day. Brenda Lara, Port Richmond C-CAP student, earned her first professional gold medal in pastry for her tropical entremets with mango-caramel glaze. Lara registered higher scores in her category than the professional chefs who competed.