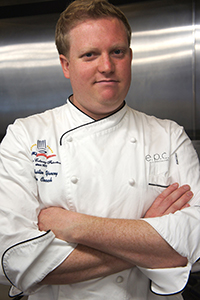 The Kendall CollegeSchool of Culinary Arts announces the addition of Austin Yancey, CEC, CCE, PCEC, to its adjunct faculty. A lauded chef and educator, Yancey will be teaching Nutritional Cooking and one of Kendall's Culinary Certificate courses.
"Kendall College proudly welcomes Chef Yancey to our teaching family," says Renee Zonka, RD, CEC, CHE, MBA, dean of the school. "Chef Yancey's wealth of experience and achievement in culinary instruction, professional cooking and formal competition on the global stage—combined with his effusive reach-for-the-stars philosophy and attitude—will continue to advance Kendall College's distinction as an international leader in culinary education."
Most recently a culinary-arts instructor at Le Cordon Bleu College of Culinary Arts in Chicago, Yancey discovered his love of and passion for cooking as a young boy working alongside his grandmother in her Greenville, S.C., kitchen. There, she introduced Yancey to the wholesomeness and pronounced flavors of naturally raised and harvested ingredients years before farm-to-table cooking and eating became the American ideal.
A graduate of Le Cordon Bleu, Yancey started his culinary journey at Caliterra (since closed), the Saddle & Cycle Club and the Zurich Skyline Suite at Soldier Field.