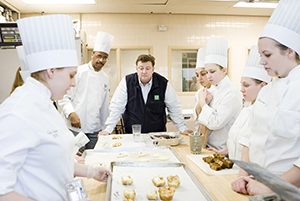 The Culinary Institute of America is naming the high-volume-production teaching kitchen in its new Student Commons at the Hyde Park, N.Y., campus after Jones Dairy Farm in recognition of the company's ongoing support of the college.
The Jones Dairy Farm Line and Kitchen will be a centerpiece of the dining area of the Student Commons building and home to CIA classes in high-volume breakfast, lunch and dinner cooking. The facility, currently under construction, is part of a major expansion and renovation of the CIA's Student Recreation Center, and is scheduled to begin serving CIA students in the summer of 2015. The existing high-volume-production kitchen, in the college's Roth Hall, was dedicated to Jones Dairy Farm in 2006.
"The CIA is deeply grateful to once again partner with Jones Dairy Farm in our drive to provide the world's best culinary education," said CIA President Tim Ryan, CMC. "Our organizations have a 20-year relationship, through which we are advancing our goals of excellence, entrepreneurship and innovation for our students."
Jones Dairy Farm is a 125-year-old family-owned and operated business and leader in all-natural breakfast sausage for the foodservice and retail industries. The company is based in Fort Atkinson, Wis.