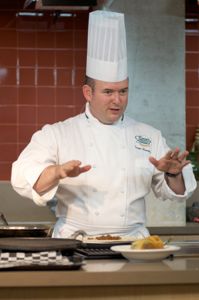 A group of students from The Culinary Institute of America (CIA) campus in Hyde Park, N.Y., is spending the first semester of senior year at the college's campus in San Antonio, Texas, focusing on the ingredients, techniques and cultural traditions of Latin American cuisines. It is part of the CIA's Latin Cuisines Concentration, which launched May 5—Cinco de Mayo.
The students, pursuing bachelor's degrees in culinary-arts management from the CIA, will study the foods of Mexico and other Latin American cuisines that are ripe for broader exposure in the United States, including those of Brazil, Peru, Central America and the Caribbean. They will explore the nuances of flavor development and culinary expression of these cuisines, while learning from expert faculty and visiting instructors, such as award-winning chef Rick Bayless, all under the direction of the CIA's Chef Sergio Remolina.
Students also will be immersed in the history and cultures of these nations and regions. For instance, they will learn that Cinco de Mayo is not the "Mexican Fourth of July," but rather the commemoration of an 1862 military victory. According to Remolina, only in recent years has it turned into a day of celebration in the United States.