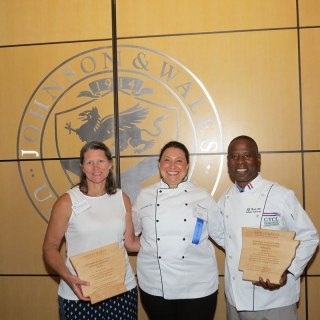 Brightwater Green Award
03 August 2019
Brightwater Green Award:
Kathleen Hassett, International Culinary Institute of Myrtle Beach, Myrtle Beach, SC
Kathleen Hassett, assistant chair of the International Culinary Institute of Myrtle Beach, SC, accepted the Brightwater Green Award on behalf of the college's program.
The Brightwater Green Award recognizes culinary programs that promote and incorporate sustainability efforts as part of the curriculum and operations. The International Culinary Institute of Myrtle Beach is housed at Horry Georgetown Technical College in a new 30,000-square-foot facility that features a hydroponic green house, outdoor vegetable garden and kitchen, and the building is pending approval of the Leadership in Energy and Environmental Design Silver designation.
Additionally, the curriculum supports Smart Recycling, a comprehensive composting program; is implementing the James Beard Foundation Creating a Full Use Kitchen sustainability courses; and actively participates in the James Beard Smart Catch program. Culinary students additionally are exposed to locally-grown, seasonally-available foods at the school's community-supported farmers market held every Thursday.