Lesson Plan: Serving Soyfoods
31 January 2013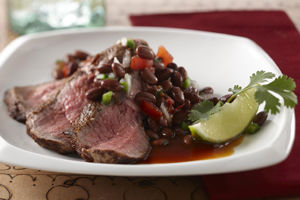 New resources, recipes and menu ideas are available online for students' use, to teach them to understand how to help consumers make informed food choices—not only during National Nutrition Month in March, but all year long.
Courtesy of the Soyfoods Council
Soyfoods have played an important role in Asian cuisines for centuries. In recent years they have become popular in Western countries because of their nutrition and health properties.
Soyfoods are excellent sources of high-quality protein and provide a healthy mix of polyunsaturated fat. In addition, independent of their nutrient content, there is very intriguing evidence indicating soyfoods reduce risk of several chronic diseases including coronary heart disease, osteoporosis and certain forms of cancer. All individuals are well advised to eat a couple of servings of soyfoods every day.
The theme of this year's National Nutrition Month in March, sponsored by the Academy of Nutrition and Dietetics, is "Eat Right, Your Way, Every Day." The Soyfoods Council offers new resources, recipes and menu ideas that help consumers make informed food choices. When customers ask questions, you'll have the answers, thanks to free brochures such as Soyfoods and Your Health. Most important, though, are the foodservice recipe ideas that make it easy to create healthful signature items and encourage repeat business.
Soy is the convenient plant-based protein that offers from 7 to 15 grams of protein per serving and, unlike most plant proteins, its quality is comparable to animal protein. Versatile soyfoods such as tofu, edamame, soymilk, TSP (textured soy protein) and TVP™ (textured vegetable protein) add flavor, texture and heart-healthy protein to menus. No need to start from scratch—these ingredients are simple to incorporate into your favorite existing recipes.
The Soyfoods Council offers suggestions to get your creative juices flowing. Ideas include spicy gumbo featuring extra-firm tofu, soy sausage and toasted soynuts, and cream-of-asparagus soup made with fresh asparagus, vegetable stock, soymilk and seasonings.
Tofu and soymilk are ideal for soups, salad dressings and desserts, while the fresh flavor and color of edamame enhance salads and entrees. TVP can be featured in sauces, chili, snacks and toppings for fruit desserts. If you're looking for new ideas, you'll find recipes on the Soyfoods Council website like Sirloin Steak with Black Soybean Salsa and Miso Orange Sauce, Tempeh Fajitas, and Asian Meatballs with Toasted Sesame Glaze that combine ground turkey with TSP.
Not only are they high in protein and low in fat and cholesterol, soyfoods are economical and convenient ingredients. They make it simple to improve the nutrition profile of everything from appetizers to desserts. Recipe from the Soyfoods Council include edamame and salmon appetizers—featuring an edamame mixture with soy cream cheese, baked in pastry with salmon—and the tropically inspired Deluxe Soy Pineapple Pie with the richness of extra-firm silken tofu and soy cream cheese.
Visit the Soyfoods Council website for National Nutrition Month resources. You'll find more recipes, instructional videos and cooking tips. www.thesoyfoodscouncil.com
---
Photo: Sirloin Steak with Black Soybean Salsa and Miso Orange Sauce. See the recipe in MS Word format for download.