The inspiration behind the winning dessert came from last year's Wisconsin State Fair, where Lyons sampled chocolate-covered bacon. "Our competition team is always looking for interesting items and combinations from around Wisconsin that are going to fit the barbecue theme," Lyons says. "I'm a big fan of bacon and love Fort Atkinson-based Jones Dairy Farm's Cherrywood Smoked Bacon. When developing the cheesecake recipe, we felt the savory flavor of the bacon along with the hint of sweetness from the cherrywood smoke was the perfect complement to the sweetness of the maple cheesecake."
Chefs Gone Grillin' is an initiative of the FVTC's Culinary Arts and Hospitality department to serve the community through public relations events. Chefs Gone Grillin' does more than 20 annual events around the community and state of Wisconsin. In addition, Chefs Gone Grillin' is also the name recognized by the KCBS, the world's largest organization of barbeque and grilling enthusiasts with over 15,000 members worldwide.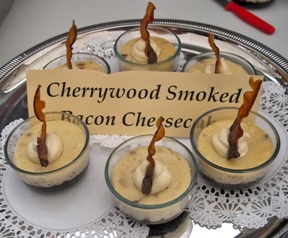 The FVTC competition team consisted of Lyons and Chef Jeff Igel, department chair, Culinary Arts & Hospitality at FVTC, and has been in existence since 2008. The team has competed throughout the states of Wisconsin and Michigan, winning several awards in only its first few years. The team goal is to win a grand championship and represent the Wisconsin in the prestigious Kansas City Royal World BBQ Championship held in Kansas City, Mo.
For more information on FVTC's culinary and hospitality program, visit www.fvtc.edu. Visit www.jonesdairyfarm.com to learn more about Jones Dairy Farm's Cherrywood Smoked Bacon.