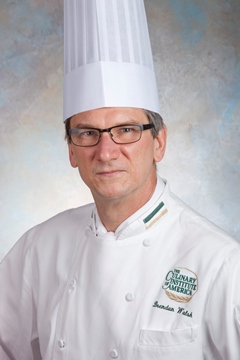 Brendan Walsh, a celebrated chef in New York City and around the country before joining the faculty of The Culinary Institute of America (CIA), has been promoted to serve as the college's dean of culinary arts. In his new position, he oversees curriculum development and management of the CIA's culinary-arts education and is responsible for the quality of academic programming, services and staffing of culinary-arts courses.
"Chef Walsh has demonstrated himself to be a consummate professional with a strong commitment to the college," said CIA Provost Mark Erickson, CMC. "He is the perfect person to fill this important role at the college—one that is responsible for keeping the CIA's culinary education unparalleled and will ensure the continued high value of a CIA degree."
A 1980 CIA graduate, Walsh returned to his alma mater in 2008 as a faculty member and, later, associate dean. Before that, he was the owner and executive chef of Elms Restaurant & Tavern in Ridgefield, Conn., North Street Grill in Great Neck, N.Y., and Coyote Grill in Island Park, N.Y., as well as the founder and president of Chef Brendan Walsh Services/FWF Consulting. Earlier in his career, Walsh held top positions at highly regarded restaurants throughout the United States, including executive chef of Arizona 206 in New York City, Water's Edge in Long Island City, N.Y., and Ancient Mariner in Florida, Connecticut and New York. He was also chef of Gotham Bar & Grill in New York City and sous chef at Stars in San Francisco.