NEW! Having fun and engaging students with pop-up email quizzes
Operating bakery and pastry on-campus class and food kit distribution
using social media
different uses of mise en place baskets
students documenting their own food pathways in the COVID environment
moving from buffet service to small served plates including cost adjustments
finding the silver lining in recorded lectures
making new industry connections through Facebook and Zoom
NEW! (December 2020)
Chef Annmarie Chelius
Chef Educator
Atlantic Cape Community College
My main goal in teaching is to create opportunities outside the lab to engage my students in a fun and relaxing way. Several times during the week, I will post an announcement on Blackboard with a "silly" subject line to entice student interest.
My most recent post this week was titled "Cheese Doodles." I asked students, "Do you like cheese doodles? If so, be the first student to email me the correct response to the following question in a complete sentence with proper grammar…" The question I posted was about the internal temperature needed for challah to be removed from the oven. The answer was given in lecture that day. The winner gets a bag of cheese doodles or a vanilla bean or whatever the "prize" for the day.
It is a fun way to have a little humor during this "heavy" time.
Chef Jackson Lamb
Professor of Hospitality
School of Hospitality, Metropolitan State University of Denver
(October 2020)
Nearly all classes pivoted to being online. However, we changed our Baking and Pastry class, a 16-week course for 16 students, and did the following to accommodate COVID-19 distancing rules:
Adjusted the curriculum by only allowing eight students per class session. We adopted a schedule where day one, team A is in the kitchen and team B does assignments at home. The following week, Team B is in the kitchen and Team A is at home.
Since we collected lab fees, we created home pantry kits for students to complete predetermined recipes at home.
Students submit six or seven slides in PowerPoint of their prep, execution and final plated item.
Classes meet weekly synchronously at the same time in Microsoft Teams. Instead of trying to cook live, I show a crisp video of a demo then we discuss success and failures, wins and losses, what got burned and what we nailed.
For our Basic Cooking Skills class, we have 90 students receiving food kits to get them through the first 2 weeks of class. The second distribution covers another 4 weeks. The first food distribution looked like a food bank giveaway. Students made appointments through Sign Up Genius, arrived in cars, stayed in the cars, and we brought the groceries out and placed in the trunk. Smooth operation distributing 75 pre-packaged food kits of shelf-stable and perishable foods. We also added an apron, thermometer, and recipes contests from local suppliers.
(These following ideas were posted September 2020)
Matt Palamara
Culinary Instructor
Coastal Alabama Community College
I have the students create a meme, TikTok, snapchat story, or other social media focused post about something they didn't already know about the subject material for that week. I've had 100 percent student engagement on that assignment.
For at-home labs, I send them home a mystery basket (market basket) of goods, and they are required to send me pictures of their knife skills and mise en place, different cooking techniques, and finished product (plating). I can judge consistency and proper technique from pictures. Plus, it gets them in the process of thinking about how the food will look in pictures for social media purposes.
Another thing I've done is to pull up a video online (YouTube or other media site) and screen capture the video with my reaction to it live. I can pause the video and point out what I see wrong or right. That way the students can be exposed to what I see that they might not. Hopefully, it helps them be a little more detailed oriented. Plus, it saves me from having to spend hours making a 10-minute cooking video about every subject.
Jonathan Deutsch
Professor and Director, Drexel Food Core Lab
Drexel University
This semester I'm teaching Gastronomy remotely. Normally this is a class where we read the theory and then apply it in practice in the kitchen. Since we can't do that this term, I am working with a great web resource, Dr. Lucy Long's The Comfort Foodways Exhibit.
(https://comfortfoodwaysexhibit.wordpress.com/)
Students will be documenting their own shopping, cooking, and eating experiences (their foodways) through COVID and reflecting on how they have changed, applying theory from food studies. They will be documenting their ideas and experiences and publishing them on this exhibit so we have a living record of this strange and future-shaping time.
Chef Kristen Grissom
Department Head
Culinary Institute of the Carolinas at Greenville Technical College
Like most culinary schools, our school has been drastically impacted by full-scale shutdowns. We have managed in the following ways:
Recorded lectures and demonstrations hosted by Blackboard Collaborate (for live sessions) and unlisted YouTube (for recorded session)
Meal plan-type take-home kits (food and equipment) for students with specific instructions on writing mise en place lists, timelines, and critical control points in addition to cooking methods the students must demonstrate
Small group live interactive sessions using Blackboard Collaborate or Zoom
Project-based learning including case studies, demonstration of organization, sanitation application, etc.
Interactive tools such as Socrative to learn vocabulary
Paring courses down to basic learning outcomes
And, of course, a LOT of communication and grace
T. Stella Bernard
Culinary Instructor
Johnson & Wales University Denver
Because tasting and buffet service has become such an issue in the kitchen, I addressed single-servings in my Garde Manger class. Instead of platers or self-service, we focused on small plates, portion-controlled servings, and where an attendant could be used to serve a guest. Now that the standard buffet is not safe, how do you get around tongs, ladles, and pouring vessels? Students then could take items off the buffet they created and go to an approved tasting area for evaluation.
An example of a small change in menuing is moving form sushi rolls cut and displayed to single hand rolls. I haven't tried it yet be we are thinking about "pearling" soy sauce to go on top. Salads were plated on multiple B&B plates instead of large serving bowls. Classic seafood display was converted to gazpacho shooters with poached shrimp and smoked shrimp and crisp fatback mini kabobs.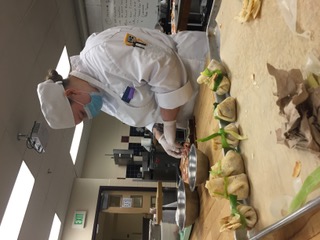 We also discussed food cost adjustments due to single-use containers and the environmental impact. Where could we use washable containers (shot glasses from bar)? Where could we use natural or compostable packaging like banana leaves? What about changing the delivery to make an edible container like a tart shell, crepe beggar's purse, or classic puff pastry shell? In the photo, the beggar's purses have a sun-dried tomato chicken salad inside.
Linda A. Blocker, CHE
Assistant Professor
State University of New York College of Technology at Delhi
We are starting our semester! In actuality, I have been starting this very different and difficult semester all summer. As you know, there is a ridiculous amount of prep required to teach all of my lecture classes online! I have lots of silver lining moments that make me happy even though I am so sad to be teaching all of my usual on campus classes online this semester. Here are a few:
I record myself teaching a chapter PowerPoint as I would in class and post it on our learning platform. The silver lining is that students can stop and start it, rewatch it, study from it, and go back to it during homework. You can't do that with a live lesson. I teach math-intensive classes (culinary math topics), so this is amazing for students - especially those who struggle with math. I might even do this when we go back to the classroom.
Interviews via Zoom can be with industry leaders from anywhere in the world without trying to get them to campus. They can be recorded and posted on the learning platform.
My Food and Beverage Cost Control students were assigned an interview project to compare what they learn in the classroom with what happens in the industry. When we went online in March many were unable to connect with the interviewees that they had made arrangements with because of the industry shut down. I went on Facebook and posted a request for help from the professionals in the hospitality industry. My friends shared my post and before I knew it I had many offers from professionals who were more than happy to share their knowledge with my students. I made the connections and they "met" via phone and video conferencing apps. So awesome!
Do you have online tips and techniques you can share with other culinary instructors? Email Lisa Parrish at This email address is being protected from spambots. You need JavaScript enabled to view it. and share your ideas. Check back often as this list will be frequently updated.