While chef instructors know pecan pie, they might also discover pecan's impressive health benefits and versatility for use in every kind of meal and snack. Pecans have a naturally sweet taste and buttery texture that makes it an ideal ingredient to add to a range of foods beyond deserts including salads, whole grains and vegetables.
Versatile pecans go far beyond pralines or pie. Applications include enjoying them straight out of the bag as a snack or topping for oatmeal, yogurt or smoothie bowls. They are a great swap for croutons and breadcrumbs by simply tossing pecans on a salad to add a nutritious crunch or use pecan meal as a flavorful coating for chicken, fish or pork. Chefs can even use finely chopped pecans in place of ground beef for pecan "meat" tacos or sheet pan eggs with pecan breakfast "sausage."
A handful of pecans – about 19 halves – is an excellent source of copper and manganese, a mineral essential for metabolism and bone health. The nut is also a good source of fiber, thiamin and zinc. They are also a heart-healthy whole food with multiple health-promoting nutrients and bioactive compounds. Compared to other nuts, pecans are among the lowest in carbs (4 grams) and highest in dietary fiber (3 grams) per serving. Each one-ounce serving contains 12 grams of "good" monounsaturated fat with zero cholesterol or sodium.*
Pecans are super local, super nutritious and super versatile. Of all the major tree nuts eaten in the U.S., pecans are the only ones indigenous to America. The pecan's storied past predates the founding of our country; yet, pecans have become embedded into American traditions, culture and, of course, cuisine.
Pecans were a staple in the diets of Native Americans and early settlers, who originally referred to them as pecanes and relied on their nourishing kernels as a major food source in the fall months. Pecans are now harvested in 15 states across the pecan belt, from California to North Carolina, and continue to be harvested (by actually shaking the trees!) – many on family farms that have been passed down for generations. Pecans are a labor of love – though pecan trees can produce nuts for upward of 100 years and beyond, it takes nearly 10 years for a new tree to begin producing a full crop. The oldest pecan trees are recorded around 300 years old and still producing.
From superb snacks and salads to incredible entrees and delectable desserts, there's no "can't" when cooking with pecans. Go to the American Pecan Council to discover a variety of delicious and nutritious recipes and for more culinary inspiration.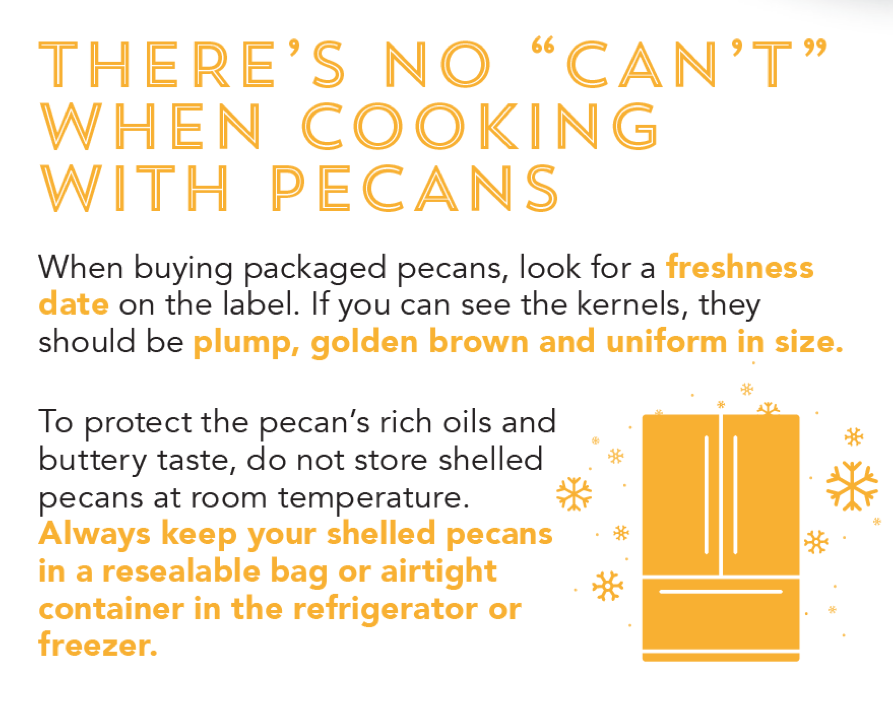 ---
Photos courtesy of the American Pecan Council
*According to the Food and Drug Administration, research suggests (but does not prove) that eating 1 1/2 ounces of most nuts, such as pecans, each day as part of a diet low in saturated fat and cholesterol may help reduce your risk of heart disease. One serving of pecans (28 grams) contains 18 grams unsaturated fat and only 2 grams saturated fat.