By Lisa Parrish, GMC Editor
For the Santa Rosa Junior College's (SRJC) Culinary Arts Department it's more than just a hands-on matter; it's mouth-on. Their culinary philosophy helps people taste the sustainable food cycle by creating delicious food using fresh seasonal ingredients grown locally, prepared in the most energy-efficient kitchens, while served environmentally-friendly with waste composted. Sustainability has never tasted so good.
It's this program-wide commitment to sustainability illustrated by Jim Cason, SRJC Culinary Arts Program department chair and instructor, which earned his program the CAFÉ/Kendall College Green Award. "Sustainability is at the core of everything we do," said Cason.
Located in the heart of Sonoma County, the SRJC Culinary Arts Program works very closely with the college's Agricultural and Natural Resources Department and its 365-acre agricultural lab, Shone Farm. The student-run farm grows nearly 55 percent of produce used in the student-run Café and Bakery as well as produce used in culinary classes. "I meet with the Shone Farm manager and plan crops that will be grown during the upcoming seasons," said Cason. "It's very challenging. For instance, I might say I'd like a Caesar salad and my other salads can vary. Or, I would like small head varieties and he suggests planting options."
The need for produce outstrips what Shone Farm provides and Cason augments his department's needs by buying from local purveyors, located within approximately 50 miles of the Culinary Center. These fresh fruits and vegetables are usually purchased from family-owned farms and farm cooperatives, often run by alumni.
Some ingredients, such as meat and seafood, are sourced from vendors located as close as possible to the college. The program purchases meats and poultry from a butcher that allows them to find cuts locally. Selected seafood is usually sourced from near-by Bodega Bay, San Francisco Bay or Tomales Bay, and the college's purveyor is aligned with the Monterey Bay Aquarium's Seafood Watch program.
"All our instructors are directed to align their menus and lesson plans to seasonally available local foods," Cason said. "We never cook out of season. For example, there are no tomatoes right now." Additionally, the program does not use premade sauces, soup bases, fillings, pastry shells, or other partially-prepared items.
For more than 20 years, SRJC's Culinary Arts Program has illustrated a commitment to sustainability and the environment. "We had a small culinary program back then and chef instructor, Michael Salinger, focused on local and seasonal foods long before it was a popular movement," Cason said. Salinger's vision turned into a department philosophy which was cemented into the program by writing the commitment to cook with local foods grown sustainably into the curriculum. Today, the program has grown in enrollment and is now housed in the 22,000 square-foot B. Robert Burdo Culinary Arts Center, located across the street from the Santa Rosa campus. The facility opened in January 2012.
The building is the greenest, most-sustainable building on campus. It houses five student kitchens, instructional classrooms, and the student-run Café and Bakery, which is open to public for lunch three days a week. Facility features include solar hot water, reduced or renewable materials for all hard surfaces, vacuum pane glass for insulation from heat and sound as well as state-of-the-art earthquake protection. "There are great little tricks throughout the building. For instance, heat from the kitchen exhaust hoods is reclaimed," Cason described. Another green element is that kitchen hoods automatically control the pitch and fan speed based on the heat and smoke coming from below.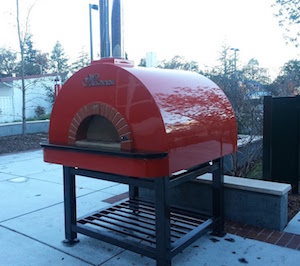 Tree limbs pruned or downed from campus trees also provide fuel for the wood-burning oven located just outside the building in a courtyard that has a large grill and smoker. The oven also offers insight into another strong program philosophy, which are robust community and alumni partnerships.
"The Mugnaini oven was a donation by community member Andrea Mugnaini," said Cason. "Most high-end restaurants here have these ovens and they are looking for employees who know how to use them for baking, grilling, barbequing and making desserts. I have restaurants calling me for students with this knowledge."
SRJC is located in a community where everyone has a passion for sustainability; it's embedded into the area's culture. Cason said, "We are lucky in our physical location with vineyards and artisan farmers. Everyone's focus is on local." Cason offers another example: "There are few chain restaurants in this community. There is no support. It's primarily local restaurants."
This knowledge of the community is another key to the Culinary Arts Program. Students visit farmers markets year round and become familiar not only with the products offered but the farmers themselves. "These future graduates will be familiar with local foods," said Cason. "They will also know the farmers they will work with."
The Culinary Arts Program's commitment to a local and sustainable food cycle is on full display in the B. Robert Burdo Culinary Arts Center. "We do not allow outside food into the building," Cason said. "We feed our students. We buy the ingredients in exchange for them handling the food. When they eat and taste what is served, they see the whole experience."
Cason received the CAFÉ/Kendall College Green Award at CAFÉ's 12th annual Leadership Conference held in Chicago.
About the Green Award: The Green Award, founded in and sponsored by Kendall College since 2009, comprise the first national awards program to recognize secondary and postsecondary culinary-arts, baking/pastry and hospitality programs for their commitment to ecological sustainability and teaching its tenets. Selection criteria are based on the integration of sustainability into educational programs and/or operations.
"Sustainability is integral to the Kendall culture—from our mission statement to our curriculum and operations," says Christopher Koetke, CEC, CCE, HAAC, vice president of the Kendall College School of Culinary Arts. "With this annual award, Kendall College, in partnership with CAFÉ, recognizes the sustainability commitment of foodservice and hospitality educators and programs nationwide while building upon the body of knowledge and resources that can help other institutions in their journeys toward sustainability."
SRJC and runner up Triumph High School, Cheyenne, Wyo., join previous Green Award recipients: Kent Career Technical Center, Grand Rapids, Mich., and Batavia (N.Y.) Career and Technical Education Center (2015); Miami (Fla.) Culinary Institute (2014); Cascade Culinary Institute, Bend, Ore., and Metro Tech High School, Phoenix (2013); Seattle Culinary Academy (2012); Colorado State University, Fort Collins (2011); Technology Center of DuPage, Addison, Ill. (2010); and Johnson & Wales University, Charlotte, N.C. (2009).
---
Photos courtesy of Jim Cason, Santa Rosa Junior College.