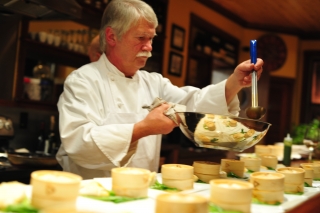 An Important Time for Mentorship
03 June 2020
Reach out to retired professional chefs to help guide students through turbulent times with seasoned eyes and breadth of experience.
By Paul Sorgule, MS, ACC
A few decades ago, the decision to pursue a kitchen career was easy. The profession was portrayed as exciting, dynamic, creative, fun, and full of opportunity. Restaurants were constantly opening in all parts of the country and American families were spending more and more of their food budgets on restaurant experiences. The uniform and the history it portrayed was proud, the kitchen environment was edgy and the environment was diverse. This was a place for young people to find a home, an outlet and a career. My how perceptions have changed.
Our current crisis serves to highlight issues that have plagued our industry for a long time. It also has added the element of uncertainty. With a significant portion of restaurants in the U.S. closed for business, and a number unsure that they will ever return – young culinarians are perplexed: "Is this the right career choice for me?"
Those of us who are seasoned veterans are aware restaurants will return, there will be some that are unable to survive, but there will be others to take their place. Restaurants are too important to the American way of life to fade and lose their significance. It will take time and considerable effort, but your neighborhood restaurant will once again raise their "open for business" flag. The question will be: "Why should people pursue career cooking now?"
As educators, we commit ourselves to properly preparing young enthusiasts for the kitchen-life rigor. We teach the technical skills, the facets of professionalism, the foundations of department management, and relay the creative elements of bringing a beautiful plate of food to the pass. We have not been in a position to convince individuals to take that first step for many years. Future cooks have sought us out by knocking on our doors for a chance to learn. My how perceptions have changed. Young people, and rightfully so, are tenuous about investing in a career that right now feels on the precipice of survival challenges.
We need help. We need guidance and so do those thousands of potential and existing students required to fill our classrooms and labs. There has never been a more important time to solicit the help of professional mentors. This is a time when experience and storytelling can lay the foundation for an exciting change. This is the time to knock on the doors of a generation of chefs who have done that, been there, and dedicated their lives to an industry that sometimes disappointed them but usually gave them ample reason to hold their heads high, smile and proclaim they were chefs.
We certainly have our own stories to relay, but mentorship, true mentorship happens beyond the classroom. Mentorship provides students with an opportunity to ask the hard questions and sift through the answers that are real and sometimes harsh – answers that come from individuals who likely spent 40 or more years doing what chefs do. The voice of these seasoned professionals is important and very poignant. These are the voices of chefs who lived through recessions, wars, economic crisis, terrorist threats, and many of life's curveballs. These chefs understand how to recover from challenges and how this fabulous industry has rewarded them in the process.
As you work through the difficult process of determining what your programs should look like in the future, how to attract students, how to deliver your educational model using technology, and how to help a wounded industry recover from the Coronavirus pandemic, make sure you build in an active mentorship element.
This is the time to contact retired chefs in your region to facilitate healthy discussions with them and engage their ideas. Enlist them to become a part of your culinary mentorship program. Think about what that might look like.
You can take the chef out of the kitchen, but you will never take the kitchen out of the chef. Even those chefs who relished the opportunity to finally retire will always miss the excitement, demands, challenges, creativity, adrenaline, and teamwork that kept them in front of a range for a good portion of their lives. A mentorship program is a way to keep them engaged while helping your program and its students.
Student resource
Disciplined students will always have questions that go beyond what is presented in the classroom or program kitchen. Your mentors can be that resource that is far more beneficial than a Google search. The how to, why, what if, and stories behind a process as it unfolded in real life is so important in a rounded education.
Another set of eyes
Think of the value that brings mentor and student together through social media. Pictures of dishes posted to Instagram or even essays posted to Facebook could benefit from a mentor's critique. Grading is not part of the critique, nor is any feeling of peer scrutiny. The feedback could just be an honest, experienced critique and sound advice.
Bank of demonstration chefs
Chef instructors are always looking for ways to supplement their classes with live demonstrations and embellishments that rely on style and variation. Your mentors are talented, energetic, and available classroom assistants.
Career counselor
The connections students make with mentors can serve to guide them through early stages of their career. What did these mentors look for in young culinary applicants and how should students develop a career strategy? The opportunity to discuss a job opportunity with a seasoned mentor will always be a breath of fresh air for students with a career vision.
Member of your network of influence
Each of these mentors brings a list of important connections with other industry professionals that can serve your program in numerous ways. This network of influence can help to align your program with supporters and build your brand at the same time. Adding a professional chef mentor element to your marketing and listing these individual's bios can only help to embellish the value of your program to potential students and employers.
Celebrate their accomplishments
At the same time, you will be able to celebrate the accomplishments and contributions of these important chefs to the profession of cooking – recognition they deserve. A chance to interact with students, to spend time in a professional kitchen, to wear a program mentor chef coat, and experience student prepared meals may be all that these retired professionals seek in return. This seems like a perfect resource for any program looking to rise above the challenges of the day.
Align with local ACF chapters to connect with these chefs, host a celebratory luncheon for area retired chefs to introduce the program, and sign them up. Without a doubt, there will be a high level of interest.
PLAN BETTER – TRAIN HARDER – THINK DIFFERENTLY
---
Paul Sorgule, MS, AAC, president of Harvest America Ventures, a mobile restaurant incubator based in Saranac Lake, N.Y., is the former vice president of New England Culinary Institute and a former dean at Paul Smith's College. Contact him at This email address is being protected from spambots. You need JavaScript enabled to view it..