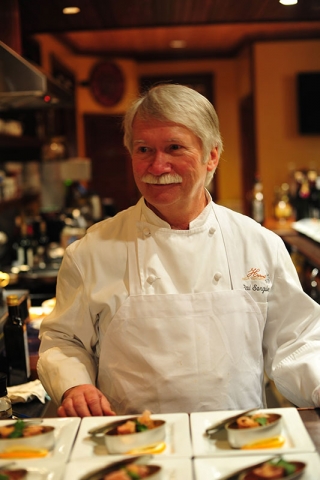 Necessity is the Mother of Invention
17 March 2020
Challenging times call for action and offer creative opportunities.
By Paul Sorgule, MS, AAC
We are faced with one of the most challenging times in our professional history with the prospect of trying to deliver quality education without the advantage of face-to-face interactions and hands-on kitchen lessons. Many faculty members may be scratching their heads trying to wrestle with how this will happen while their students wonder the same. We have, for decades, promoted the importance of hands-on education and now must try to adapt to what we have been dealt.
There are ample models that can be accessed for those classes that rely on interactive lectures, research, report writing, and established testing – this can be a fairly seamless transition for faculty and students. But, what about the cooking classes that rely on producing and assessing a product, team work, the pressure of timing, and the inevitable inconsistency in raw materials that will challenge the most tested recipe? This is a real challenge for all stakeholders, a challenge without the same clear-cut solution as a management class, food sanitation, or history of a particular cuisine. How will we approach this: as an impossible dilemma or an opportunity?
Let's take a deep breath and pause for a few moments. Let's consider approaching this as an opportunity to address a challenge we have been facing for much longer than our pandemic fears. As culinary schools across the country have been dealing with declining enrollments, escalating costs of delivery, difficulty in finding resources to build and maintain state-of-the-art kitchens, and finding a balance between small faculty to student ratios and cost effectiveness – taking the time to contemplate alternative methods of delivery is a real opportunity.
Do we try to ride it out by delaying those hands-on classes and re-adjust schedules when the spread of the virus is under control? Or, do we take this opportunity to begin implementation of alternative methods now? Let's take this time of challenge and view it as a perfect opportunity for faculty to set aside our long-standing belief that cooking can only be taught in a certain manner and start to think differently about what culinary education today and tomorrow can look like. Many of the greatest accomplishments of mankind have been a result of environmental pressures that demanded innovation. This may very well be such a time for culinary education.
As our schools close (in many cases) for the balance of the spring term, and as we see the summer break upon us shortly – let's build a vehicle for faculty, competing schools, hotel and restaurant chefs, and students to think about what is next and look toward methods of delivery that carry us beyond today's challenges.
Think about the opportunity of partnering with restaurants and hotels as we did in the past, to collectively find ways of meeting the training needs of students and the industry where their careers will be made. Think about the power of technology and how it might be modeled to suit the needs of hands-on education while reducing a school's dependence on expensive kitchens. Think about how we might create an open dialogue with creative people to help us discover alternative ways for faculty members to deliver important material and assess student performance in a manner not currently on the table. This is the time – this is our opportunity.
Yes, action is necessary and challenges are numerous. Collectively we can move beyond these obstacles and rise stronger and more versatile as a very important part of America's food service industry.
PLAN BETTER – TRAIN HARDER – THINK DIFFERENTLY
---
Paul Sorgule, MS, AAC, president of Harvest America Ventures, a mobile restaurant incubator based in Saranac Lake, N.Y., is the former vice president of New England Culinary Institute and a former dean at Paul Smith's College. Contact him at This email address is being protected from spambots. You need JavaScript enabled to view it..