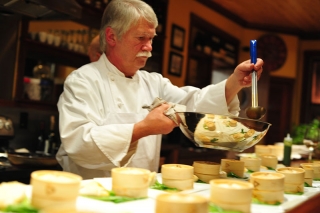 Embracing Change in Culinary Education is Long Overdue
02 November 2019
The acceleration era is here; slow and methodical doesn't win the prize anymore.
By Paul Sorgule, MS, AAC
Stop for a moment and think about how quickly everything changes nowadays. Everything except how educational programs are designed and delivered. Maybe that seems a bit harsh, but it is true and quite possibly culinary arts programming's greatest deterrent to long-term stability.
Jim Carroll, a prominent futurist, inadvertently defined the state of education today with one succinct sentence: "Acceleration and speed demand agility and flexibility. But, are you structured for slow in the era of fast?" Educational institutions are notoriously and painfully slow. Maybe it is our strong belief in democratic systems, or maybe it is just an ingrained resistance to change. In any case, we are slow on the draw. An educator's life consists of committees and sub-committees, taskforce groups, meetings, self-studies, accreditation, program reviews, and deep-seated assessment. It's a system where change is an anomaly but the system operates in a world where change is a way of life.
Think about these breakthrough products that were not around or barely around a dozen years ago: iPad, Uber, Lyft, Google Chrome, Airbnb, Spotify, iTunes, Instagram, Square, Kickstarter, Smartphone GPS, Vistaprint, Amazon Prime, Autonomous vehicles, ApplePay, 3-D printers, and the list goes on. All of these products were game-changers and are now part of our life's fabric. Most of us would wonder how to get along without them. What was the last game-changer concept to come out of education and in particular – culinary education? Consumers expect fresh, new, innovative, and amazing and in many cases see these products or services arrive from start-ups and prominent industries. Why don't we get new ideas from education?
Education is starved for a disruptive product or service. We crave even more than that – what we really need is a transformative change in how we define education, what form it takes, how it is delivered, and how we measure success. Does that make you uncomfortable? Well, it should make you sit on your seat's edge and re-think what you are doing right now.
Think about this:
"Innovation is the new oxygen. We (society) are changing so fast that for the first time, a new generation can barely recognize the way that the previous generation grew up."
- Jim Carroll
Yet, we still hang on to the way that things were when we grew up, i.e. what we learned and how we learned it. This is education's burden– we are stuck in a constant loop of repeating what worked decades ago and wondering why students are less engaged, harder to reach, and less interested in what we have to offer. Sure, each of you can point to something that you are doing to which you can be proud, that appears to work for you. But, is it transformative? Hey, I still get goose bumps talking about Escoffier and Careme. But, I also know that many 19-year-olds are far less intrigued by the past. We must always recognize what was and how it led us to today without dwelling on it. This behavior is not moving the bar for our students.
Students want educators to take a lesson from Napster and reconfigure the way that education is offered and what they are able to buy. Industry wants to hire enthusiastic, competent, confident, energetic, passionate, dependable, go-getters and they are having a really challenging time finding them.
Could it be that the problem is not millennials? Maybe, we are the problem. Young students have a short attention span, but look into their world to discover why: their world is filled with instant information, 24/7 stimulation with their phones, 3-minute videos on YouTube, Twitter and Instagram, and abbreviated text messages. They will never slow down to our classroom pace. When a culinary program's policy states "no smart phones in classes or labs" we are taking away their connection to the universe and the way they receive and process information. Maybe it's time to figure out a way to enter their world and integrate their connections into our delivery systems.
The acceleration era is here – slow and methodical doesn't win the prize anymore. This time of fast and furious is scary and exciting at the same time. Scary if we resist, exciting if we engage.
Embracing change in education is long overdue. Look how culinary schools are challenged to fill their classrooms. Students are balking at tuition's cost and the reality of long-term debt. Industry chefs wonder why they can't find enough employees, especially ones that are kitchen ready. Yes, it's time to change.
---
Paul Sorgule, MS, AAC, president of Harvest America Ventures, a mobile restaurant incubator based in Saranac Lake, N.Y., is the former vice president of New England Culinary Institute and a former dean at Paul Smith's College. Contact him at This email address is being protected from spambots. You need JavaScript enabled to view it..