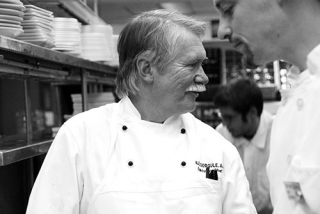 What's Next in Culinary Education?
27 February 2018
From politics to profitability, Chef Paul Sorgule gazes into a crystal ball and discusses a different, dynamic and fruitful future for culinary curricula.
By Paul Sorgule, MS, AAC
Predictions are not always rooted in reality but they are keys to envisioning what could be. It is this crystal ball thinking that has been the spark that drives many businesses forward or at least inspires them to stop and think differently. If we fail to look toward a different future we might very well find ourselves behind the curve. Education, in terms of the inevitability of change, is no different than any other business. As education leaders we need to ask the question: "Do we want to drive the train, ride the train, or be run over by the train?"
With unprecedented changes in the food business knocking on our doorstep, here are a few realities that educators will face in the coming years. Hopefully, a dialogue surrounding these challenges will become part of your faculty meetings and discussions.
Technology
The difference between a failed restaurant and one that exceeds business goals may very well rest on the shoulders of the technology that operators adopt. There is a growing need for chefs to understand how to collect and use analytical data that only become realistic when technology is your partner.
How well does your program integrate an understanding of technology and analytics? Computer classes and problem-solving skills using analytical data are no longer options in your curriculum - they are essential.
Programmable kitchen equipment may push some of the traditional methods of cooking aside, but consistency and quality control are hard to argue with. Our graduates need to be equipment savvy and know how to use this technology to put a restaurant in a position of success.
Creating Food Experiences
The foundations of cooking will always be at the core of any culinary program – this we know. Working backward from what restaurants need to rise to the top and thrive is cooks and chefs who can take these foundations past the essentials of great tasting food. Today's consumer is looking for restaurants that provide an experience worthy of their time and investment. This experience takes many forms from the uniqueness of the food and flavors, appearance of plates, complementary ambience of the dining room, and service that includes education to align with technical excellence. Culinary programs need to address these components in their curriculum and integrate the experience notion in every course. Presentation, uniqueness, responsiveness, creative thinking and enhancing a guest's understanding of the food experience are now critical skills expected of graduates. The foundations are the price of admission – essential, but not the end game.
Authenticity
The days when a restaurant tried to be all things to all people are quickly fading. Guests seek out authentic representations of a cuisine. This includes depiction of the cultural influences behind the food. A cook will always find it very difficult to represent a cuisine without understanding those cultural influences.
Culinary curricula developers should consider integration of the social sciences and humanities, not just as freestanding classes, but rather as culture across the curriculum. This means that a class in Northern Italian cuisine or Cantonese cooking style should include a healthy dose of history, the arts, geography and agriculture as those understandings apply to how a cuisine evolved. Authenticity comes from a deeper understanding of the influences.
Changing Skill Sets
Modern culinary programs need to build flexibility in curriculum. Education is notoriously slow at changing course content – this must change as the skill sets that will be required of graduates in the near future evolve. Courses with titles such as Culinary Futures, Contemporary Cuisine, Current Influences on Modern Cuisine, etc. should be designed to constantly evolve without the need for lengthy approval processes. Culinary education needs to change as quickly as the industry it services.
Immigration and a Diminishing Labor Pool
The restaurant industry is faced with its greatest challenge in a generation. The labor pool has not kept up with the demand for dedicated, well-trained workers. Some culinary programs are geographically positioned for a deep understanding of the importance of a diverse workforce, while others are at a disadvantage in this regard. The fact is that the restaurant industry will have a difficult time thriving without the advantage of an international workforce.
Courses in diversity and a requirement for a second language will become even more critical in culinary programs that want to adequately prepare graduates for a changing industry.
Profitability Challenges
A program without sufficient attention to being business savvy is doing a disservice to students. This should include basic accounting, cost controls, understanding how to problem solve financial issues in a restaurant, labor management, and budget generation will separate a school's graduates from those that fail to recognize the importance of these skills.
This business savvy needs to be integrated throughout a program including paying attention to the cost of ingredients and waste in kitchens, and effective costing exercises in menu planning classes.
Food Integrity
Today's consumer is concerned about the source and the quality of ingredients used in a restaurant kitchen. This is obvious as we look at printed menus and marketing initiatives that restaurants have incorporated in their business strategy. Programs, moving forward, should ensure students understand the source and those issues that surround consumer concerns over food integrity. Restaurant guests expect the chef and the restaurant take to these issues to heart.
Sustainability
Sustainability is a broad subject that certainly includes an understanding of ingredients and their availability, reducing the carbon footprint associated with getting certain products to market, the impact of harvesting or processing an ingredient has on the environment, the use of biodegradable ingredients, recycling, composting, reduction in the use of harmful chemicals, and water conservation. It also is important to walk students through sustainable practices in retaining employees and building a business model that supports operational success.
In essence – sustainability should be a common thread that is present throughout every aspect of a culinary program.
Restaurant Failure
The failure rate of restaurants is quite high – this is an undeniable fact. Most curricula focus on what needs to be done to prepare for success, but rarely is there time spent on discussion about those factors that contribute to failure. Why do restaurants fail at a rate higher than many other industries? Understanding what not to do is oftentimes just as important as knowing what should be done.
Real-time Education
With the current rate of change in the food business, it is easy to see the skills that bring a student to graduation will likely evolve in a short period of time. It is also critical to note that taking two to four years away from a paying job to pursue a culinary education is becoming cost prohibitive. It will be important for program directors and faculty to begin looking at the current model and asking: "How must we change?" Serious discussions about certificates, certifications, progressive skill modules vs. a degree, online culinary education, and other hybrid models designed to deliver the skill sets that will set the stage for success must become part of everyday investigation and dialogue.
Politics and Food
Unfortunately, we can't separate the reality of politics from the business that we are in. Dialogue and debate about the impact of political decisions and other current events should find a place in the culinary curriculum of tomorrow.
All said – this is a very exciting time to be involved in culinary education. If we embrace the need for change and the process through which intelligent decisions can be made with regard to curricula then the next decade will be dynamic and fruitful.
A new essential read for instructors and students:
"The Underground Culinary Tour"
by: Damian Mogavero
PLAN BETTER – TRAIN HARDER
---
Paul Sorgule, MS, AAC, president of Harvest America Ventures, a mobile restaurant incubator based in Saranac Lake, N.Y., is the former vice president of New England Culinary Institute and a former dean at Paul Smith's College. Contact him at This email address is being protected from spambots. You need JavaScript enabled to view it..