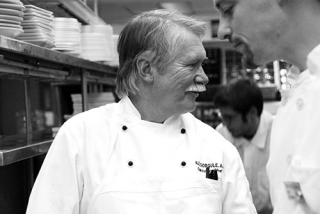 A Fresh Start: Incorporating the Current State of the Union into Your Classes
Instructors need to include a frank discussion of factors that make a successful culinary career in today's society.
By Paul Sorgule, MS, AAC
As another academic year begins and a new class of eager culinary students press their chef coats and tie their aprons – instructors are dusting off the course syllabi that are time-tested and appropriate within your defined curriculum. There are some things that should not change: course content that always holds true such as methods of cooking, how to properly use a knife, proper sanitation and ways to build flavor through the application of heat, spices, marinades, and so on. This is comforting to those who teach and certainly necessary as we teach, counsel, coach, and train young people in the craft of cooking.
While all of this is true, there are many other factors that influence a students' ability to plan a successful career in the kitchen – factors that challenge the way restaurants and producers approach the business of food and define the ability to remain solvent now and in the future. As educators we have a responsibility to bring these factors into the classroom, as we stay in touch with the food industry eager to hire the next generation of chefs, research chefs, food and beverage managers, and food entrepreneurs. I would thus implore each of you to look for ways to incorporate discussion and research on the following topics into your 2017/2018 course content:
It's all About People Assets
The number one challenge facing the restaurant side of the food industry is finding and retaining enough of the right employees to meet the guests' needs. This must be a topic of intense discussion in the classroom. Full employment, the tradition of excessive kitchen work hours, low pay and a lack of benefits, unpredictable schedules, and the stress associated with work in a busy restaurant have come together as a perfect storm. The next generation of chefs will be assigned the responsibility of finding a solution. We are a people business that requires a dedicated, energized, and fulfilled workforce. Today, that is in question.
The Customer Is in Control
Gone are the days when customers were expected to respond to what the chef wanted to prepare and how the restaurant wanted to present it. Guests today know they have the upper hand and are empowered to change that formula. Social media has given them the ability to sway public opinion about a restaurant in a positive or negative way forcing chefs to put aside their egos and listen. We need to teach students to develop listening skills and understand the power of the paying guest.
Ingredient Integrity at the Top of the List
Chefs are beginning to realize that consumer interest in the source of ingredients, how they were raised or grown, what impact those ingredients have on our ecosystem, and the manner with which a restaurant or producer prepares those ingredients is very high. Chefs and the vendors they use must pay attention to the source, develop relationships with growers and producers, and communicate this attention to detail to the consumer they are trying to attract. Students must become more aware of the source – visit farms, talk with growers and producers, understand issues surrounding ingredient integrity, and learn to adapt this understanding in their cooking.
Learn From the Game Changers
Examples in your classes should go beyond those well-known names in the restaurant business and stretch to incorporate companies like Blue Apron, Wegman's, Eataly, Amazon, Google, Apple, and Tesla. Yes – all of these companies have something to teach culinary students. Learn how they are breaking the mold, testing the waters of change, and redefining how providers and customers interact. This is a valuable lesson for students who will become tomorrow's leaders in the food industry.
The Top Line Drives the Bottom Line
The chef's job goes beyond producing great tasting food. In the restaurant segment the chef must become actively involved in generating sales. Your classroom should always include ways to build menu items that are designed to maximize sales potential and convince guests to purchase those complementary items that drive sales. The question should always be: "What can this item sell for?" Moving beyond what you must charge – demonstrating that flavor and presentation can increase perceived value and in turn selling price is an essential part of a balanced culinary education.
Cost Control Must Be Second Nature
Every lab course should incorporate reinforcement of cost. Every recipe a student produces in a lab should include what that item would likely cost (even if those ingredient prices are not current). This helps to teach a student to view ingredients not just for quality and flavor, but also for contribution to financial success or failure.
Creating Experiences Is the Chef's Job
Today's chefs cannot be satisfied with the basics of flavor, aroma, texture, and presentation. Students must become aware that a chef must learn to work with the front of the house, owners, marketers, social media managers, sommeliers and bartenders, and even vendors to help create unique experiences that make a trip to their restaurant "worth the drive". Teach your students that restaurant work must be collaborative – this is what leads to success and what helps to build a chef's professional brand.

Front and Back of the House Must Unite
Breaking down those historical barriers between front and back of the house is essential. Great food without great service is not likely to drive success and great service without the food to back it up is just as unlikely. Wherever possible the instructor must promote the value of both.

Technology Is One of the Answers
Your students will likely adapt to this much quicker than the instructor. The classroom should become a focal point for new technologies that will make the food business more adaptable, more in tune, easier to manage, and filled with analytical data that can help the chef do his or her job better.

Breakthrough Service Is an Expectation
Food brings the customer in, but knock-your-socks-off service that exceeds customer expectations is what will bring them back time and again. Breakthrough means doing what is not expected and anticipating customer needs before they express that need. Take the time in your class to point to companies that consistently exceed service expectations.
Everyone Is a Competitor
Fine dining doesn't just compete with fine dining, quick service doesn't simply compete with other quick service operations; everyone who sells food in some form is a competitor with every one else. Examples of this should be sprinkled throughout your curriculum. As an example – a culinary program should invest time in researching the best new burger as well as learning how to properly prepare a Sole Veronique.

Life in the Kitchen Doesn't Get Easier
Finally, as you have done in the past, it is your responsibility to constantly point out the challenges of the food business and this it will likely remain so. As it has been said before: "The only place where success comes before work is in the dictionary."
PLAN BETTER – TRAIN HARDER
---
Paul Sorgule, MS, AAC, president of Harvest America Ventures, a mobile restaurant incubator based in Saranac Lake, N.Y., is the former vice president of New England Culinary Institute and a former dean at Paul Smith's College. Contact him at This email address is being protected from spambots. You need JavaScript enabled to view it..