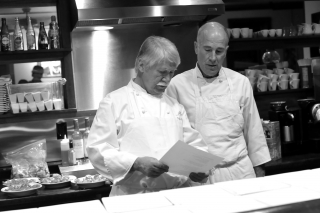 Think Different About Your Student Audience
01 November 2016
Recreating an institution's culinary education means focusing on improving people's lives not just offering degrees.
By Paul Sorgule, MS, AAC
A college education has become for many a right of passage. Education for the sake of an education seems to drive many decisions that students and parents make when a person graduates from high school.
The belief that options for individuals are limited without a degree is partially true and as such - quite isolating to those who cannot identify the means to pay for such a life transition. Many individuals who take the leap, especially in culinary education, find that they, like those who cannot afford an education, are disenfranchised once their diploma is in hand.
The foundation of a formal education should be to improve people's lives, and in my opinion should be true whether or not a degree is provided. I would thus challenge my peers to contemplate this in the context of what the role of culinary education could be and what "products and services" we might provide. As we wrestle with the challenges of finding enough students to support our programs, identifying outside resources to help maintain exceptional facilities, finding sufficient exceptional teachers to deliver our curriculum, respond to government concerns about gainful employment, and meet the changing needs of the food industry that hires our graduates, we must begin to think differently about our approach.
There are well over a million chefs, cooks, and food handlers in the United States supporting the same number of restaurant outlets. This defines the restaurant business as one of the primary employers of people in our country. Many of these restaurants find it increasingly difficult to find and retain good employees. At the same time, a considerable number of those who currently work in restaurants feel this sense of disengagement. Who is helping them to improve, build skills, define their personal brand, and aspire to roles with greater responsibility? Who is their advocate, mentor, and guide on the side?
Is our educational role to deliver a degree or to provide a clear path for success and support each individual's progress along the way? We often refer to a college education as an investment rather than an expense, yet it seems that far too many times the degree has become a product that is purchased, received, and forgotten.
A true investment requires on-going attention on the part of the provider and the recipient. Investments need to be managed and communication between both parties must be maintained. The degree is a formal indicator of time and results. But, is it the only product or service that a college could or should focus on? In terms of investment, there can be various ancillary products or services that focus on that end result – improving people's lives.
A culinary program could (and I would propose should) serve as the portal or link between student, employee, employer/chef, vocational high school programs, and professional organizations. These programs could, or should, be the driving force that removes much of that disenfranchised feeling shared by cooks and shows them the way to success. At the same time, those programs that take on this role can realize a level of success that might be difficult to realize otherwise.
Allow me to point to some programming food for thought in line with this approach:
Certificate Programs and Certifications
Specific skill certifications and/or certificates can address current needs of students and employers. A portfolio of options can provide an opportunity for individuals to customize their training objectives and build a program that is focused on their specific career track. The creation of such programs can be quick and easy for schools to pursue since neither credit nor a degree is offered. A student could build a focused and impressive resume of validated skills that would enhance his or her brand.
Partners in Education/Apprenticeship
As per my previous article on apprenticeship – a return to more active participation in the process of culinary training by property chefs and management can serve to bridge the gap between employer expectations and the process of building competent cooks. This partnership requires culinary programs, property chefs, and students work collaboratively and remains one of the more dynamic training methods.
Bridge Programs
Quite possibly, the best resource for committed culinary students is the chef in a professional kitchen. When colleges work in partnership with quality kitchen operations to award life-experience credit through proper assessment, there is real incentive for those operators to encourage cooks to pursue a degree while still working and in some cases, assist those students with the cost of their education. This type of well-thought-out "bridge program" can be a win-win for students, property chefs and your program.
Advanced Skill Development
The advent of quality on-line programming and individual connectivity to the Internet can provide an opportunity for colleges to offer refresher programs and advanced specialized training in an asynchronous format. This is a way to engage those interested in staying current including an effective method of keeping program graduates involved with your institution. Schools could pitch the idea of life-long learning by involving degree graduates as subscription members who receive updated training throughout their career.
Additionally, colleges could provide annual retreats, workshops, and symposia that bring graduates and certification students together for refreshers and networking opportunities. If properly engaged, it would be reasonable to encourage employers to cover the fees for cooks and chefs to attend.
Networking and Brand Building
Keeping degree and non-degree completers connected to your placement office with life-long career coaching, and active solicitation of properties that match the growing skill set of former students is a service that would be very attractive to individuals. Some of these services could fall under the "subscription membership" fee, while others might be employer paid or placement service.
This is the moment, the time when colleges must address the need for change and the opportunities that "change attitudes" can provide. We are on the downward slope of the product lifecycle creating a sense of urgency that will determine which programs thrive and which ones will struggle. Take the opportunity to challenge what you do, discover what is needed, and relish the chance to re-create culinary education for the next few decades.
---
Paul Sorgule, MS, AAC, president of Harvest America Ventures, a mobile restaurant incubator based in Saranac Lake, N.Y., is the former vice president of New England Culinary Institute and a former dean at Paul Smith's College. Contact him at This email address is being protected from spambots. You need JavaScript enabled to view it..