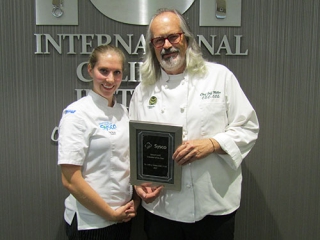 Dr. Jeffery Miller, Colorado State University - Sysco Educator of the Year Winner
07 August 2017
Dr. Jeffrey Miller has a passion for learning. To him, learning is a lifelong process that includes more than food knowledge. Dr. Miller brings his breadth of knowledge in areas such as sociology, history and education to his Colorado State University classes. He said in his award application, "A student may come to CSU to get a credential, but I am going to try and help them leave with an education."
He provides context to his students. Learning facts are useful but limiting, according to Dr. Miller. He goes beyond facts and helps students discover "how" and "why" the facts were important. He said, "When students leave CSU they understand the meaning of what they do in the world and how the successful practice of their chosen profession contributes to the enrichment of the lives of others."
Dr. Miller, who spent 20 years in the culinary industry before becoming a teacher in 1996, has taught at CSU since 2000 and is an associate professor and program coordinator for the Hospitality Management Program. He has earned numerous teaching, dining and culinary awards.
According to Dr. Jonathan Deutsch of Drexel University, Dr. Miller has the coveted balance of practical technical skills with a broader mission to critically examine and advance the culinary industry.
From organizing and managing fund-raising dinners to raising nearly $10,000 for the local Food Bank to consulting with organizations such as Starbucks, Walt Disney, McDonald's and the US Navy and Coast Guard on curriculum, Dr. Miller has a passion for outreach and service to the food service industry and his community.
Another example of Dr. Miller's service to others can be found in Fort Collins, Colo., where he is partnering with the National Restaurant Association and Matthews House, a community-based nonprofit organization helping empower young adults facing adversity. They are piloting a restaurant ready training program for youth to provide them employment opportunities in the food service industry. This study will be a scalable model applicable to cities and programs around the country.
Dr. Miller serves all with a focus on excellence. Ken Symsack, a former student, assistant, and current colleague, said that Dr. Miller is the embodiment of teaching excellence. Symsack noted how Dr. Miller always focused on students' progress and not their abilities.
Patrick St. Clair, a former student and colleague, said, "Chef Miller taught us every action in cooking and in life has a reaction. That we should take the time to think things through so we can achieve the desired outcome." Dr. Miller instilled patience in his students by saying they could not rush perfection and being patient, both with themselves and their cooking, that that will give them the most wholesome product possible.
St. Clair continued, "Chef always emphasized the basic techniques to life and cooking were something not worth cheating and that we should carefully walk through the processes before jumping in."