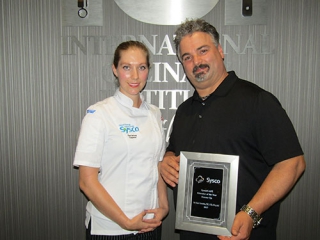 Dr. Frank Costantino, The Culinary Institute of New York at Monroe College - Sysco Educator of the Year Runner Up
07 August 2017
Dr. Frank Costantino has held the dean's position at the School of Hospitality Management at the Culinary Institute of New York at Monroe College for 9 years.
Prior to accepting the post, he operated a small farm and farm-to-table restaurant. It was during these two years, when he was removed from education, he truly discovered he was an educator first and foremost. He realized how much he missed teaching. And, since coming to Monroe College, of the 26 semesters he has been Dean there – he's taught 24 of those semesters.
Under Dr. Costantino leadership, the Culinary Institute of New York has grown into one of the top programs in the US. It's one of the largest baccalaureate degree programs in the nation. Dr. Costantino was instrumental in developing and implementing an award-winning, student-run restaurant while also focusing on academic outcomes and job placement.
Another highlight of his Monroe College tenure has been creating an innovative, accelerated master's program in hospitality management. This has been no easy task. But, Dr. Costantino's approach – his roll up your sleeves and the get the job done right – attitude took over. An alumnae of the first cohort, Chris Villa, said, "Dr. Costantino is hands down one of the best examples of a true professional that, not only talks the talk, but walks the walk."
Villa was preparing for his first semester when he learned Dr. Costantino delayed the program because he couldn't implement it with the correct academic rigors and on-site residencies. Dr. Costantino made the decision to hold off one more year. Chris said, "I knew there would be no short cuts. I was totally assured I made the right choice. We were pushed to our academic limits and at the same time had great reassurance that we should stay the course."
Frank has earned numerous certifications, competition awards and honors, including ACF chapter Chef Educator of the Year and Chef of the Year twice. However, attaining his doctorate was a true professional milestone. And, it put him in a category of less than 10 chefs in the country to hold a PhD as well as the CEC designation.
Carol Genese, associate vice president of academic affairs at Monroe College said,"Frank is the consummate academician, educator, and culinary professional. He remains humble and always uses modeling behavior. He promotes the servant's attitude with great integrity both on and off the clock."