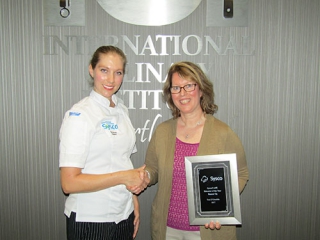 Toni D'Onofrio, Westchester Community College - Sysco Educator of the Year Runner Up
07 August 2017
Being creative in the kitchen and classroom has always been a passion for Culinary Arts Instructor Toni D'Onofrio.
Her on-the-job chef training occurred after graduating from the Art Institute of New York and spending 20 years working throughout New York City kitchens. Finally, the self-described "loud and brash chef" came back to education and began teaching and extending her own education.
She said, "I began a lifelong journey of learning to teach by learning to learn." Now, with her PhD nearly complete, she continues to inspire and be inspired by her students – a thoughtful chef who is interested in learning.
She incorporates various learning modalities and technologies into her classes. In one class, she took students to the on-campus fine art gallery to understand sensory awareness. D'Onofrio asked her students to create a meal around the art work they had viewed by describing specific dishes, colors and why the items were chosen.
Beyond teaching, D'Onofrio participates on various campus committees and charitable events. She recently partnered with the local American Legion Post in "Chefs Helping Vets," where she led a Knife Skills Boot Camp for local participants.
D'Onofrio regularly receives high marks from her students and colleagues. One student wrote, "She encourages us to try our hardest and makes it easier for us to learn by respecting us and our different learning techniques." And, a co-worker reported, "Her leadership skills, passion for teaching, and desire to help have always been deeply appreciated by those who work with her."