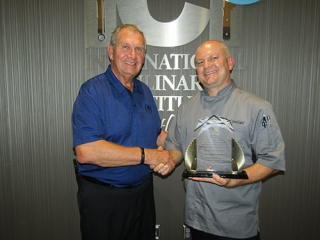 Herve Guillard, College of the Canyons Institute for Culinary Education - Idaho Potato Commission Social Media Innovation
07 August 2017
Chef Herve Guillard earned the Idaho Potato Commission (ICP) Innovation Award in social media by taking a Safety and Sanitation written essay and turning it into a social media capstone project.
Most students enthusiastically selected the social media option while the less social-media savvy students choose to write a research paper.
Chef Guillard allowed students to choose any combination of direct messages, Snapchat, Instagram, Facebook or Twitter to ask if anyone had experienced a sickness related to any food they ate. Once students received a response from someone with a previous illness, additional questions were posed regarding symptoms, how long the sickness lasted, and whether or not it was reported to the source. In the conclusion, students were tasked with drawing some epidemiology from the information and making an educated guess as to what happened in each case.
The students who selected the social media project had very positive comments about the project. They become more engaged in the material as they could relate to the people and their responses. Students discovered that food borne illnesses are not restricted to the restaurant environment and gained an understanding of how social media expands the way people communicate. One student wrote, "It is so easy to meet so many new people with just one post."