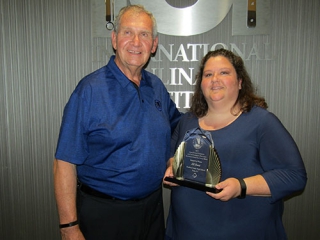 Jill Hurt, Bourbon County High School - Idaho Potato Commission Social Media Innovation Award Runner Up
07 August 2017
Social media's benefits include more than chatting with friends. For Jill Hurt and her students at Bourbon County High School, Facebook, Twitter and Instagram are platforms to promote and sell items from the Culinary Pathway's catering business and culinary classrooms.
Last February during Super Bowl 2017, Jill used Facebook to share that her students had containers of Buffalo Chicken Dip, Mini Hot Browns and Otis Spunkmeyer cookies available for purchase. The post was shared by many people and it was a successful fundraiser. Additionally, interested customers added their email addresses to a distribution list promoting weekly catering business offerings such as the Casserole of the Week. These posts have increased sales and provided additional funds for culinary labs.
Jill also uses the department's Twitter account to communicate general information to her students as well as opportunities for extra credit. These random tweets might include light cartoons related to ServSafe or pictures of spoiled products where students must identify the issue.
The Culinary Department Instagram account is used to showcase the talent of Bourbon County High School students. Pictures are posted from lab days and catering events and the account is utilized like a digital portfolio to show catering clients various ideas.
Jill said, "As educators, we have to change along with the technology and use it as ally and a tool in the classroom versus fighting the constant battle."