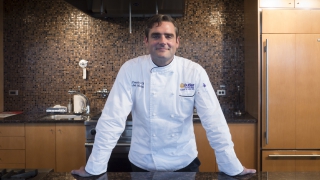 National Pork Board Cooking Competition for Foodservice Instructors Winner: Executive Chef John W. Michael
Department Chair, Culinary Arts at Butler Community College, Wichita, KS

Michael won an all-expense paid trip to the 2017 National Pork Summit held at the Culinary Institute of America at Greystone, CA.
Chef Michael prepared: Blade/Flat Iron Roulade with mushroom duxelle, pan roasted carrots and zucchini, roasted fingerling potatoes with bacon lardons in a lemon caper white wine pan sauce.
---
Photo courtesy of Auguste Escoffier School of Culinary Arts/Glenn McManus.