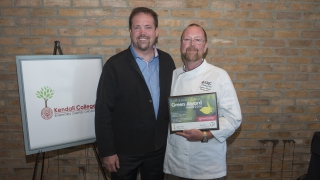 Kendall College/CAFÉ Green Award: James Cason
Department Chair of the Culinary Arts Department, Santa Rosa Junior College, Santa Rosa, California
Cason won $1,000 and a free registration to CAFÉ's Leadership Conference
Santa Rosa Junior College's commitment to sustainability is quite evident as the institution has incorporated its tenants throughout all its educational programs, vendor partnerships and school operations such as Shone Farm, the Sustainable Agriculture Program and the Culinary Café and Bakery.
The culinary arts department works very closely with the agricultural and natural resources department in the planning of Shone Farm, a 365-acre agricultural lab in the heart of the Russian River area. During the growing season, 50-55 percent of the produce used in the Café and Bakery as well as other culinary classes comes from the farm. All produce grown is fully organic and farmed in the most sustainable manner possible. Even deliveries from the farm are made with useable containers.
Dr. Ganesan Srinivasan, dean of agricultural and natural resources as well as culinary arts explains, "Shone Farm provides students with hands-on training in sustainable crop and animal production. Student-produced organic vegetables and fruits, grass-fed beef, wine, olive oil and other products find their way to the table of the B. Robert Burdo Culinary Arts Center."
After the culinary arts program utilizes the farm's produce, it is recycled back to the farm for composting and applying to the fields completing the nutrient cycle.
Additionally, 90 percent of foods used in the classrooms and labs are obtained from local purveyors (within 50 miles of the college), with some meat and seafood being the exceptions. Fresh fruits and vegetables are purchased from sources such as year-round farmers' market and local growers. Flours and grains for the baking class are purchased through local, family-owned purveyor of organic flours and grains. And, no sauce or soup bases, premade fillings, premade pastry shells or partially prepared items are ever used in the program.
Sustainability requirements are not only honored in the production of meals but also in the creation of campus facilities. In spring 2011, the culinary arts department moved into the B. Robert Burdo Culinary Arts Center. The building features include solar hot water, recycled or renewable materials for all hard surfaces, vacuum pane glass for insulation from heat and sound, and much more.
All of the sustainability efforts do not come at an increased cost for students. Careful coordination between campus programs and classes has enabled the school to remain within budget while still having some of the lowest credit hour and lab fees of any community college in the country. This is during a time when California higher education institutions are facing difficult funding challenges.
---
Photo courtesy of Auguste Escoffier School of Culinary Arts/Glenn McManus.(l. to r.): Christopher Koetke, CEC, CCE, HAAC, vice president, the School of Culinary Arts at Kendall College, and James Cason, CEC, department chair, Culinary Arts, Santa Rosa Junior College.