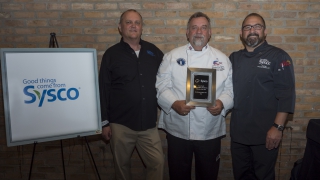 Sysco Post Secondary Educator of the Year Winner: Dr. Michael Riggs
Program coordinator and professor, Southcentral Kentucky Community and Technical College, Bowling Green, Ky.
Dr. Riggs won a $1,500 cash award and registration to CAFÉ Leadership Conference
Dr. Riggs has illustrated an unfathomable commitment to the success of students, the college and the surrounding community.
He has served on the American Culinary Federation's curriculum committee. Additionally, Dr. Riggs worked diligently with secondary programs across Kentucky to develop Two Plus Two transfer agreements and dual credit programs for easily transferring credits to postsecondary institutions.
He has demonstrated a commitment to the success of other faculty members at his institution through his work for the past five years mentoring new faculty members during their first year of teaching.
A professional associate of Dr. Rigg's described him like this in a letter of reference included in the award application: "Chef Michael Riggs believes a comfort zone can be a beautiful place, but realizes nothing ever grows there. Chef Riggs has taken a comfortable and beautiful culinary arts program and developed a place for his entire students to grow into professionals. He has yet to settle for anything less than the best."
Another colleague described Dr. Riggs as an honorable man who has the ability to work with people from all walks of life and one that places honesty and honor on a high plateau.
---
Photo courtesy of Auguste Escoffier School of Culinary Arts/Glenn McManus.Photo: Sysco Corporation Post Secondary Educator of the Year. Pictured (l. to r.): Sysco Chicago executive chef Klaus Mandl, Dr. Michael Riggs, and Sysco director of culinary development Neil Doherty