JOB TITLE: Director of Education
The Los Angeles Hospitality Education Center (LAHEC)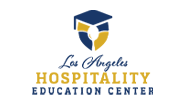 POSTED: 05/09/2022
The Los Angeles Hospitality Education Center (LAHEC) is a newly licensed California trade school located at Hollywood Park in Inglewood, CA. LAHEC's brand new state-of-the-art 22,000 sq.ft. facility features three certificate programs; Culinary Arts, Food and Beverage Service, and Beverage Service.
LAHEC is currently seeking a full-time, on premise, Director of Education to lead the faculty and instructional services team in the delivery of LAHEC's Culinary Arts, Food & Beverage Service, and Beverage Programs.
The LAHEC programs are designed to provide fast paced, market-driven, skills-based education delivered by faculty with appropriate credentials and industry experience. The programs enable graduates to gain entry-level employment in the hospitality industry at premium wages with opportunities for advancement in the food service industry.
We take great pride in preparing our graduates for a variety of careers in the food service industry. This preparation is accomplished through practical experiences in state-of-industry kitchens and learning labs including simulated situations with real-world production applications..
The Role:
Lead faculty in the education of students using skills, knowledge and abilities. Collaborate with the faculty with the continual development of course curricula and lesson plans. Monitors and develops the delivery and measurement of instructional outcomes through using lecture, explanation, demonstration and execution. Be a positive role model for students and faculty by focusing on innovated methods of teaching and providing the most complete instruction and training while adhering to all published school policies.
For more information LAHEC - Director of Education