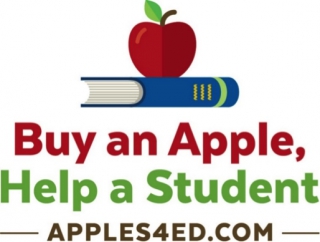 Buy and Apple, Help a Student
Supporting K12 school projects this fall is as easy as taking a bite from your favorite apple, thanks to U.S. apple growers and friends
Buy an Apple, Help a Student this fall when you support Apples for Education. Every time you snack and share a picture of yourself enjoying an apple or related product, U.S. apple growers will pledge financial support of compelling student causes across the country.
April 18 through Sept 9: Nominate Your Favorite School Project
Know a student cause we should consider? Class garden, educational field trip, athletic equipment, musical instruments, classroom textbooks, library e-readers, nutrition education program—you name it. Tell us why your project deserves funding by submitting                              a nomination form on Apples4Ed.com starting April 18. 
Starting Oct. 1: SNACK, SNAP, TAG, SHARE to vote for your favorite cause!
Selected causes will be profiled on Apples4Ed.com. Raising funds for these causes is as simple as:
SNACK        Grab an apple, applesauce, apple juice, or partner product 
SNAP            Take a picture enjoying it
TAG               Name your favorite project and tag #Apples4Ed
SHARE          Share on Twitter or Instagram to vote              
Apples, apple sauce, apple juice, or our program partner products (TBD) all qualify for a vote
A Snack for You Makes a Difference for Students Everywhere
Oct. 1 through November 12, we'll collect pics and tally the votes. Causes with the most votes will get top donations. And, you could win prizes and chances to get more funding for your favorite project along the way.
Supporting Healthy Bodies and Minds
Apples have always been good for your body – and now they are great for hungry minds. Make your bite count by supporting school projects nationwide!
Get involved at Apples4Ed.com—nominate your cause April 18 through Sept. 9!!