Here's a fun review activity for a beginner class. I have also used this game as an activity for high schoolers on tours. It not only solidifies that students must know the name of a kitchen item but also its use. I call this Culinary Bingo.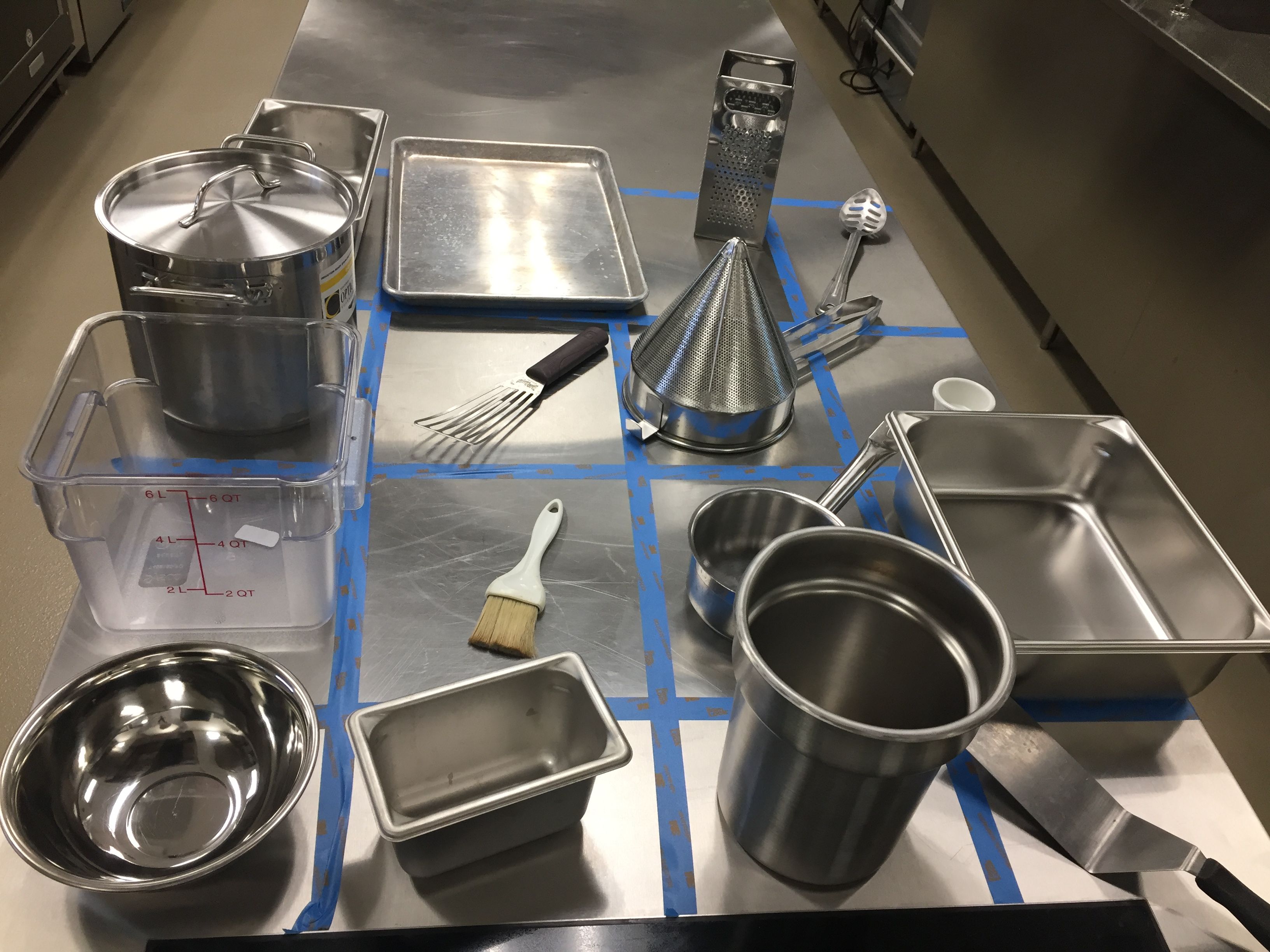 The first step is creating the boards. How many boards depends on the number of students and available space. Each board has 16 squares (4x4) and is created with either painters' tape or a grease pencil. Inside each square, you will place a tool or equipment piece. Since you probably have some unique items in your kitchen (like a mandolin or mortar and pestle), I try to make sure each board has one of these unique items. Each board also has one object that is the same which I call the last clue. (I use a ramakin for my last clue.) Fill in the rest of the squares with random equipment and tools from the Suggested Tools and Equipment attachment below. Now, the game begins.
Start calling out equipment pieces. The team that has it receives a Hersey Kiss as a marker. The game progresses as boards are filled with Kisses for correct answers. I make sure all the squares of each board are full except the final clue, which is the same throughout all boards. I call this last and everyone gets Bingo at the same time. And, of course, they have Hersey Kisses to celebrate.
If the game boards are not needed for another class, I have the students put all the equipment away in the correct place. Also, I have played a version of product-ID Bingo as a review with fruits and vegetables and herbs and spices. Good luck!
Attachments
Suggested Tools and Equipment
---
Chef Jennifer M. Denlinger, PhD., CCC, CHEP, is the Culinary Management Program Department Chair at the Poinciana Campus of Valencia College. She is also the vice president of ACF's Central Florida Chapter. Additionally, Chef Denlinger earned the 2020 Innovation Award, sponsored by CAFÉ and the Idaho Potato Commission, for a creative escape room based on safe food handling procedures. She also earned the 2021 Green Award sponsored by the United Soybean Board and was runner up in 2021 for the Postsecondary Education of the Year sponsored by Sysco Corporation.