Lesson Plan: An Intro to Healthy Cooking
By Renee Zonka, R.D., CEC, CHE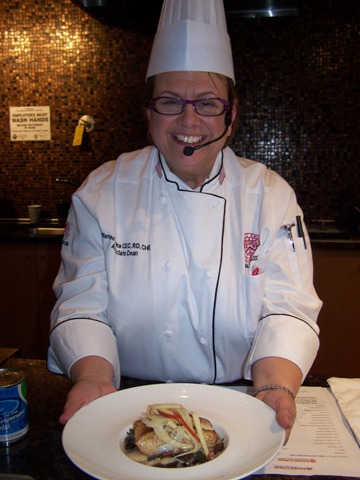 This presentation on general healthy-cooking principles is an ideal introductory lesson that speaks to today's wellness concerns.
"Nothing is poison and everything is poison; the difference is in the dose," said Theophrastus Philippus Aureolus (who called himself "Paracelsus"), a Swiss doctor and alchemist who lived from 1493 to 1541.
This lesson plan follows that principle, advocating moderation and instructing on methods of lowering fat and maintaining eating quality, cooking gluten-free, using natural sweeteners, modifying recipes and understanding product labels. Three separate recipe downloads—for a high-fiber, low-fat halibut dish featuring giant Peruvian limas and Scarlet Runner beans, pressure-cooked to lock in nutrition; a gluten-free Christmas beer cake; and a corn/crab chowder modified to lower calories and cholesterol, all written for the home cook—assist in applying understanding.
---
Renee Zonka is the associate dean of The School of Culinary Arts at Kendall College, Chicago.
Downloads: Healthy Cooking Tactics, Corn and Crab Chowder with Basil, Gluten-Free Christmas Beer Cake, Halibut with Savory Beans and Apple-Fennel Salad
Photo caption: Renee Zonka presented this lesson on healthy-cooking principles to 80 personal chefs at the American Personal & Private Chef Association's 2010 Summit at Kendall College in February. Here she shows her Halibut with Savory Beans and Apple-Fennel Salad featuring pressure-cooked Giant Peruvian Limas and Scarlet Runner Beans from Indian Harvest (www.IndianHarvst.com).
Last modified onMonday, 05 April 2010 14:18
1 comment
Culinary schools teach different techniques of cooking with modern kitchen technology. Experienced chefs train the students in all the areas of culinary art. The education provided by these schools includes theory, chemistry, design, and nutrition of various types and cuisines of food. Students lean to prepare various types of delicious food.

http://www.culinaryschoolsprograms.com/
Leave a comment
back to top