Green Tomato: Access a Wealth of Sustainability Resources at the NRA Show 2010
By Christopher Koetke, MBA, CEC, CCE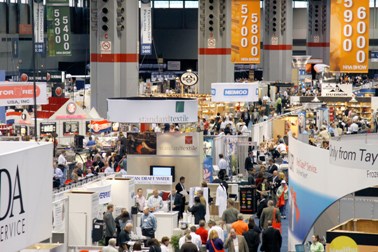 Educators seeking solutions for environmental efforts and teaching greener foodservice practices will find a wealth of information, products, services and contacts, May 22-25 in Chicago.
As schedules ramp up in preparation for the 2010 National Restaurant Association (NRA) Restaurant, Hotel-Motel Show in Chicago, I wanted to let you know about a few things you won't want to miss. NRA has gone all out to put together a cornucopia of sustainability resources for both operators and educators. From the brand-new Conserve Solutions Center and Greener Restaurants program to a full track of educational sessions that focus exclusively on sustainability and social responsibility, they've got it covered … and you won't want to miss it!
Conserve Solutions Center
The Conserve Solutions Center will be where the action is with live-action interviews, presentations and panel discussions about various issues within sustainability as well as product demonstrations, networking and more. I'll be there too and will be hosting some of the sessions, so come by and visit us in the South Hall adjacent to Smart Design, the Natural/Organic Pavilion and Kitchen Innovations. Some of the presentations you can look forward to include:
A three-part series on food impact on the environment and what consumers are thinking about sustainably produced foods.
A four-part series on local sourcing, organics, sustainable seafood and the Chicago Green Restaurant Co-op.
A session to help you identify and avoid greenwashing.
A three-part series on energy efficiency from EPA ENERGY STAR®.
Social and e-marketing as it relates to sustainability.
Greener Restaurants Program
As many of you know, I'm a member of the Conserve Action Council and this year, NRA Conserve: Solutions for Sustainability is launching a program that recognizes restaurants that are already on the sustainability journey, looking to reduce their impact on the earth and improve their bottom line. Housed on its own Web site, Greener Restaurants provides online tools and education to help restaurateurs continue down a greener path and leverage their good work as one way to differentiate their restaurants from the competition. That's becoming increasingly important since NRA research shows that four out of 10 consumers say they're likely to make a restaurant choice based on a its conservation practices.
At the center of this program is a comprehensive series of 60+ video vignettes co-produced by NRA Conserve, the Food Service Technology Center and Kendall College. Each of these 30-second to two-minute videos is quick and to the point, providing essential, how-to information related to various actions you can take to become more sustainable; they're also tremendous educational tools for your students.
Best of all, operators can track their progress and receive recognition for their efforts and, of course, culinary programs that operate restaurants are also invited to participate in the Greener Restaurants program. This would be a good place to get your students involved and let them help you track the progress of the restaurants in your program.
Educational Sessions
The NRA Show also offers remarkable learning opportunities through its 70+ free education sessions. Arranged by interest tracks, the Sustainability and Social Responsibility track includes more than a dozen options over the four-day run of the show, including a session that I'll lead called "Are Sourcing Local AND Sustainable Food Mutually Exclusive?" That one will also feature celebrity chef/sustainability pioneer Rick Bayless of Chicago and Steve Schimoler, owner of Crop Bistro & Bar in Cleveland and an expert on the distribution system. Other topics include:
The Greener Restaurant program.

Local and sustainable food sourcing.

Seafood traceability.

Saving money through water and energy conservation.

Waste stream reduction.

Composting.

Green building.

Marketing your green efforts.
Ala Minute Sustainability News During the Show
Leading the sustainability charge from the NRA side is my friend, Chris Moyer. Some of you may have heard us speak together on various panels over the last couple years. In addition to his excellent leadership of Conserve, Chris is a social-media maven, and he'll be Tweeting all of the breaking news about sustainability as the show unfolds. To make sure you don't miss a thing, follow ChrisMoyer51 on Twitter.
---
Christopher Koetke is dean of The Culinary School at Kendall College, Chicago, which sponsors CAFÉ's annual Green Award for culinary-arts programs. He is also vice president of culinary-arts programs for Baltimore-based Laureate International Universities.
Additional Info
topics:

Sustainability/Green Articles

Chef Name:

Christopher Koetke

Organization:

Kendall College School of Culinary Arts
1 comment
An awesome panel will be hosted by Billy Dec with panelists Richard Roeper, Alpana Singh and Steve Dolinsky! The session will cover learning to leverage your product or brand through personal relationships, traditional media, social networking and celebrity. Check it out! http://www.billydec.com/blog/nrashow/
Leave a comment
back to top