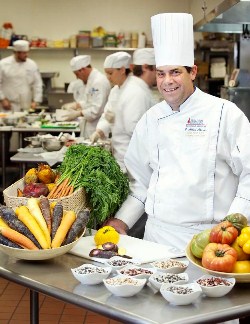 When is a food "heirloom," and when is it "heritage"? And is buying "local" more or less beneficial to the planet than buying "organic"? Here's a briefing on teaching the meaning of popular food buzzwords to students.
By G. Allen Akmon, CEC, CHE
Accept the fact that when you decided on an exciting career within the foodservice industry, you were headed on a journey of lifelong learning. In order to help you solidify that notion, you are likely attempting to keep up a steady diet of the latest menu-enhancing buzzwords and current trends that rely in large part on historical and/or sustainable products. The verbiage can be overwhelming or even mystical in the fact that many seem to be using the terminology in a slightly different fashion.
Now consider the fact that if you are in the field of educating future generations of culinarians, it is not quite enough just to be familiar with terms like heirloom, antique and heritage.
Read more...