Have Your Cake and Eat It Guilt-Free
By Eric Stein, M.S., R.D.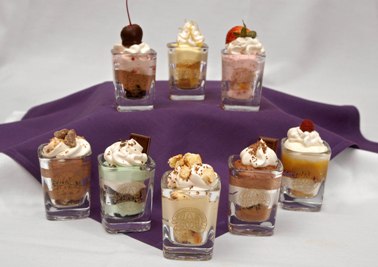 Can the words "light," "healthy" and "desserts" even be used in the same sentence? More than ever, chefs are proving that they can.
Most basic dessert recipes rely on just a few key ingredients, such as butter, granulated sugar, eggs, heavy cream, chocolate and flour. Although the outcome is usually tasty, these ingredients often result in desserts full of empty calories and few nutrients. In a time of calorie-conscious consumers, chefs are beginning to take basic dessert preparations and make them healthier through the use of ingredient alternatives and by adding nutrient-rich foods.
When taking on the challenge of creating desserts that are more nutritious, it is important to first look at the steps of the recipe-modification process. Recipe modification should always start with a great "gold standard" product to use as a reference point. Using a gold standard also helps when analyzing the function of ingredients in a recipe. Egg yolks play an important role in providing flavor and mouthfeel in many decadent desserts, for example, and a crème anglaise made without them would likely fall flat if there was no replacement for these characteristics.
The creation of healthier desserts also requires the use of many alternative ingredients. Although sugar substitutes perform very differently than granulated sugar, they are often required in desserts targeted toward the diabetic market. In addition to sugar substitutes, healthier desserts also make use of alternative flours such as sorghum, millet, amaranth, quinoa and rice. These types of flours would likely be used in the production of gluten-free desserts, and be accompanied by gums such as xanthan and guar to help mimic the characteristics of gluten found in wheat flour.
While most desserts are acceptable for vegetarians who consume eggs and dairy, creating desserts for vegans can pose a far greater challenge. In addition to avoiding all animal products, many vegans also choose to keep refined and processed foods out of their diets. Avoiding refined and processed foods may mean that they will not accept desserts that contain granulated sugar and refined flours, and in some cases, vegans may also choose not to consume honey. Chefs who create vegan desserts also often enrich their products with ingredients such as black-bean and fig purées, bananas, dried fruits and nuts to add vitamins and minerals.
While the above methods are used to create desserts for specialty clientele, there are still consumers who have no aversion to eating cream, butter, granulated sugar and chocolate. They still want to eat decadent desserts, but do not want to see them add inches to their waistlines. For this reason, many chefs are beginning to create miniature portions of their signature desserts. Smaller versions of molten-chocolate cakes and individual tastings of crème brǔlée portioned in a single spoonful are among the most popular. Dessert samplers are designed to be shared among two or more people, allowing guests to satisfy their sweet tooth, but not feel so guilty in doing so.
As educators, it is important to support the creative endeavors of our students. As we know, desserts rarely come out as we plan the first time, and require multiple trial runs to perfect. Working to modify traditional dessert recipes to make them more healthful requires patience. Referring back to the gold standard will help to give direction and inspiration to needed modifications, but not always the right ingredients to substitute. Modifying desserts requires testing multiple ingredient alternatives and even a variety of new techniques. When searching for resources on this subject, refer to cookbooks (dedicated to gluten-free or heart health, for example) that focus on the specific client you are targeting.
---
Eric Stein, M.S., R.D., is a chef-instructor in the College of Culinary Arts at Johnson & Wales University, Denver.
Photo caption: Small desserts earn high marks at Ashland University in Ohio. Offered in every dining outlet, they're most popular at lunch in the casual-upscale Accent Room, says Brent Cline, the university's executive sous chef, whose team developed eight varieties to serve in shot glasses etched with the university's logo to meet growing diner demand for less-heavy desserts.
Additional Info
topics:

Food Trends

Chef Name:

Eric Stein

Organization:

Johnson and Wales University College of Culinary Arts
back to top