Bringing Sustainability to the Table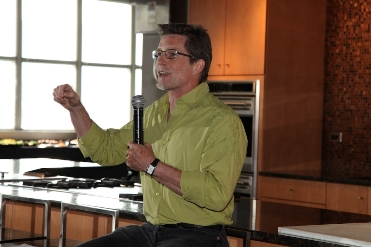 This year's Chefs Collaborative Summit, held at Kendall College, revealed big news for a growing fan base from the USDA.
Chefs Collaborative's 2009 National Summit was held at Kendall College in Chicago, Sept. 15-16, drawing chefs and media nationwide with a commitment to ecological sustainability in foodservice to the campus for the Boston-based nonprofit's annual meeting. Keynoter Rick Bayless of Frontera Grill and Topolobampo fame broke away from his new restaurant, XOCO, to stress the importance of small, sustainable, family-owned businesses to the lifeblood of a town or neighborhood to an enthusiastic audience of nearly 150.
Besides plenary sessions on such topics as "Looking at Our 'Carbon Footprint': Food Choices and Climate Change," the Summit hosted a sustainable-seafood reception at Shedd Aquarium and a tour of and lunch at Green City Market. But the biggest outcome from the two days was the advance news by Ann Wright, Deputy Undersecretary for marketing and regulatory programs with the U.S. Department of Agriculture, of a new federal initiative called "Know Your Farmer, Know Your Food."
"Know Your Farmer, Know Your Food" is designed to support local and regional food systems through such initiatives as a farm-school program that makes it easier for schools to use federal dollars from the 2008 Farm Bill to purchase fresh fruits and vegetables from local farms, and allowing select state-inspected operations to ship meat and poultry across state lines—widening the market for small-farm operations.
The day following the Chefs Collaborative Summit, U.S. Agriculture Secretary Tom Vilsack announced awardees of 86 grants under the 2009 Farmers Market Promotion Program (FMPP) at the opening of the FRESHFARM Market at the White House with First Lady Michelle Obama in Washington, D.C. Reaching into communities across America, grants totaling more than $4.5 million were awarded to encourage and support the viability of farmers markets and direct marketing projects nationwide. (A national directory of farmers markets is available at www.ams.usda.gov/farmersmarkets.)
"Farmers markets have an important role in local and regional food systems by helping consumers have access to healthy, nutritious foods," said Vilsack. "These grants will help continue the recent expansion of farmers markets across the country to increase access to locally grown foods for consumers, and increase incomes for farmers."
Vilsack emphasized that low-income consumers will particularly benefit through the program's emphasis on increasing access to fresh fruits and vegetables through the use of electronic benefit transfers (EBT). This year, USDA exceeded its mandate to fund at least 10% of the total FMPP grant funds for new EBT projects at farmers markets. Thirty of the 86 grants promote the use of new EBT projects, which will help increase access to locally grown fresh fruits and vegetables by low-income consumers using funds provided by the Supplemental Nutrition Assistance Program (SNAP).
Funds will be used to establish, expand and promote farmers markets and other direct producer-to-consumer marketing opportunities by eligible entities in 37 states. This announcement is just one component of USDA's "Know Your Farmer, Know Your Food" initiative to help develop local and regional food systems and spur economic opportunity. By successfully restoring the link between consumers and local producers, there can be new income opportunities for farmers and generate wealth that will stay in rural communities; a greater focus on sustainable agricultural practices; and families can better access healthy, fresh, locally grown food.
Founded in 1993, Boston-based Chefs Collaborative is a nonprofit culinary organization that advocates for sustainability in the greater food community; provides chefs with the information and tools (through workshops, publications and events) necessary to make sustainable purchasing decisions; and connects chefs and sustainable food producers. Chefs Collaborative has more than 3,000 active and passionate food-community professionals as members, 70% of whom are chefs. For more info, visit www.chefscollaborative.org.
---
Photo caption: Chef Rick Bayless
Additional Info
topics:

Food Trends

Chef Name:

Summit

Organization:

Kendall College School of Culinary Arts
4 comments
Leave a comment
back to top