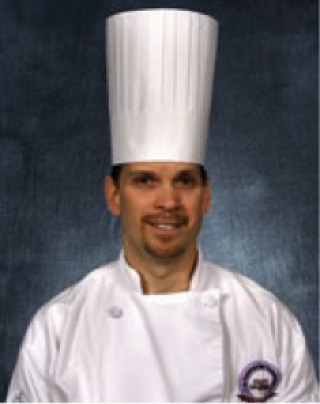 TEACHING KNIFE TECHNIQUES
23 March 2016
Be one of the lucky participants who has the opportunity to learn how to teach students the proper execution of knife techniques from ACF-certified culinary judge Chef Timothy Bucci, CEC, CCE, CHE, FMP, MCFE.
 Class Objectives:
Use the proper technique for the cut required for the food being prepared
Use proper hand and product placement used during the cutting process
Stress the importance of knife safety and appropriate sanitation practices
 Practice the step-by-step procedures for teaching effective knife techniques 
Bio: Chef Timothy Bucci CEC, CCE, CHE, FMP, MCFE
After working in restaurants and hotels for 14 years, Chef Bucci taught at the Cooking and Hospitality Institute of Chicago for 10 years prior to coming to Joliet Junior College, where he currently teaches and instills students with his passion for cooking. As a member of the 2012 Culinary Team USA, Chef Bucci earned two silver medals at the World Culinary Olympics, took second place overall among 37 countries, and won two gold medals at the 2010 World Culinary Cup. Chef Bucci was named the 2009 ACF National Educator of the Year.
The Knife Techniques Skills Class is one of four pre-conference Master Classes offered on June 23, 2016, from 3-6 p.m. in Chicago at CAFÉ's annual Leadership Conference
ELEVEN DAYS TO DEADLINE!
Get your applications in for one or more of the CAFÉ Award programs.  Go to
Tell us about your student-run foodservice operations
Give us some ideas why you should be (postsecondary or secondary) educator of the year
Describe your green/sustainability efforts
Make over a favorite recipe into a more nutritional offering
DEADLINE IS APRIL 1, 2016.
12TH-ANNUAL CAFÉ LEADERSHIP CONFERENCE
hosted by Kendall College, Chicago, Illinois, June 23-26
Highlights:
National Pork Board Cooking Competition for Foodservice Instructors
Four Master Classes

Knife Techniques (for all levels)
Garde Manger Fruit Carving (think mangoes and watermelon!)
Korean flavor profiles (taught by a master chef!)
Sensory training using Wisconsin cheeses
A full day of Industry partnerships including

Keynote with Chef Beverly Kim
Panel with industry groups dedicated to providing classroom resources
InfoFair-lots of goodies!
Four Trends Presentations

Lamb, not just for fine dining
Honey, beverages and beyond
Pasta, it's good for you!
Vegetable Purees, absolutely perfect!

A full day of educational best practices including presentations by your peers

Writing across the curriculum
Teaching food safety in 50 minutes
Teaching hunger to culinary students
Increasing student engagement
Student involvement outside the classroom
Three star continuing education
Using digital tools to gamify learning
Shades of green
Putting HACCP plan across the curriculum
Educators as coaches
Help students fast track to success
Collaboration with today's youth
CAFÉ events all offer programs designed with the foodservice educator top of mind.  Your attendance also includes ACF continuing education hours.
Registration, agenda, and hotel information can be found by going to 
http://cafemeetingplace.com/cafe-events/item/1247-2016-leadership-conference
Do you Follow us on Facebook?
Sign up for our Facebook link and you won't miss our weekly updates!
Are all of your co-workers familiar with CAFÉ?  Help us spread the word!  CAFÉ has a
FREE website
, full of classroom resources.  CAFÉ has a
FREE online magazine
, "The Gold Medal Classroom" published monthly.  And
CAFE offers three events a year
:  a February Deans and Directors Retreat; a June Leadership Conference; and a fall specialized content workshop.
Click here to sign up for our weekly updates and monthly magazine
JOB LISTING
PAUL SMITH'S COLLEGE, ADIRONDACK MOUNTINS, NEW YORK
Paul Smith's is looking for new leader for our food services department.  We are "about to launch a new approach to our Baking and Pastry Arts, Culinary Arts, and Food Service Management degree programs. We seek a dynamic food services leader interested in competency based learning to lead this transition and strengthen our connections with industry and the American Culinary Foundation (ACF)."
CAFÉ is dedicated to linking the foodservice industry with the foodservice classroom.  As a result, we are fortunate to have industry partners who are willing to reward and recognize educators and programs that are going "above and beyond" their efforts in culinary/baking/pastry education.
This year we have some NEW twists on some familiar Award Programs:
| | |
| --- | --- |
| | THE IDAHO POTATO COMMISSION will recognize both a high school and a postsecondary program that has outstanding/innovative STUDENT-RUN OPERATIONS.  These restaurants or catering operations can be open to the public or just in house.  What are you doing that might be considered an innovation in restaurants/bistros/delis/theme dinners/catering/ or other ways that students are involved in the execution of a real-life operation.  CASH PRIZES and complimentary registrations to the CAFÉ Leadership Conference, June 23-25, 2016, in Chicago.  For more information, go to http://cafemeetingplace.com/scholarship-awards/item/1109-idaho-potato-commission-innovation-award |
| | KENDALL COLLEGE is all about sustainability and how your program is creating additional opportunities for students to learn all aspects of greening and current practices to ensure a healthier, more sustainable future.  CASH PRIZE and complimentary registration to the CAFÉ Leadership Conference, June 23-25, 2016, in Chicago.  For more information, go tohttp://cafemeetingplace.com/scholarship-awards/item/1107-cafe-kendal-college-green-award-for-2016 |
| | SYSCO CORPORATION has renewed its outreach to the educational community by sponsoring cash awards for outstanding educators, both at the secondary and postsecondary levels.  Specific areas to be evaluated include communication skills, teaching methodologies, community outreach, professional development activities, and more.  For a complete description of these Awards, go to http://cafemeetingplace.com/scholarship-awards/item/1106-sysco-cafe-educator-of-the-year-award CASH PRIZE and complimentary registration to the CAFÉ Leadership Conference, June 23-25, 2016, in Chicago. |
| | UNILEVER FOODSOLUTIONS wants you to re-engineer a familiar recipe so that it is more nutritious and more healthful.  CASH PRIZE and complimentary registration to the CAFÉ Leadership Conference, June 23-25, 2016, in Chicago.  Be sure to go towww.unileverfoodsolutions.com to find the range of products that Unilever produces so that your makeover recipe can qualify.  Your recipe needs to be submitted in a standard recipe format along with a picture.  Remember your makeover needs to emphasize its nutritional benefits.  No lesson plan is required this year; however, you may be asked to replicate your dish at the conference. For more information about the award please go to http://cafemeetingplace.com/scholarship-awards/item/1111-unilever-foodsolutions-health-and-food-lesson-plan-contest-for-foodservice-instructors |
If you submitted an application in 2015 for an Award, we urge you to submit again.  Read the criteria carefully and provide documentation along with your narrative.  There were many great applications last year and not everyone could be recognized. 
CAFÉ CALENDAR
April 1, 2016, Deadline for Award applications
May 22, 2016, Hotel Cutoff for the 12th Annual Leadership Conference
June 23-25, 2016, 12th Annual CAFÉ Leadership Conference, Chicago, IL
Leave a comment
Make sure you enter all the required information, indicated by an asterisk (*). HTML code is not allowed.